How To Add Presenter Notes In PowerPoint
🕐 9 Apr 23
Microsoft PowerPoint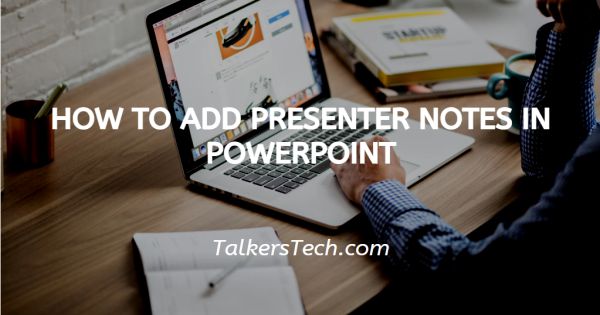 In this article we will show you how to add presenter notes in PowerPoint, Presenter notes are very helpful in order to include reminders of what you want to say regarding presentation you can easily add presenter notes to any of the PowerPoint slides.
PowerPoint presentation notes help you to remember some slideshow's finance details in an accessible format.

When the presentation is running the notes appear on the screen as a presenter view but it is not visible on the screen of anybody else seeing the slideshow.

Including presenter notes in your PowerPoint slide is quite easy with the help of just a few clicks.
Step By Step Guide On How To Add Presenter Notes In PowerPoint :-
Launch Microsoft PowerPoint on your PC.
Open the presentation where you want to add presented notes. you can also create a blank presentation where you can include presenter notes.
Click on the view tab which is placed at the top of the menu.
The view tab provides various options like Presentation views, master views, show, zoom, / colour gray scale, window and macros.
Look for the presentation views. MS PowerPoint provides 4 formats of presentation view named normal, outline view, slide sorter, notes page and reading view.
Click the option of normal from the presentation view of the view tab.

Click on the specific slide where you want to include a presenter note. In Microsoft PowerPoint, you can include presenter notes in any of the following slides.
At the bottom of the screen, you will see a few options at the right side. These options are notes, comments, Slide sorter, reading view And zoom level.
Click the option of notes.

At the bottom of the slide you will see a text box where you can enter the presenter notes. include the present inodes when you required the most important cues related to the presentation.
After adding the notes simply press enter.

You can also include present a note to all the slides in your PowerPoint presentation. This act as a handy note when you give a PowerPoint presentation.
In Microsoft PowerPoint, you can also print the slides and the present notes will still be there which can act as a handy note.
Conclusion :-
I hope this article on how to add presenter notes in PowerPoint helps you in this article, we covered an essential guide and the steps mentioned above are Koi detail and easy-to-follow.