How To Add My Restaurant In Zomato
🕐 1 Jul 23
Zomato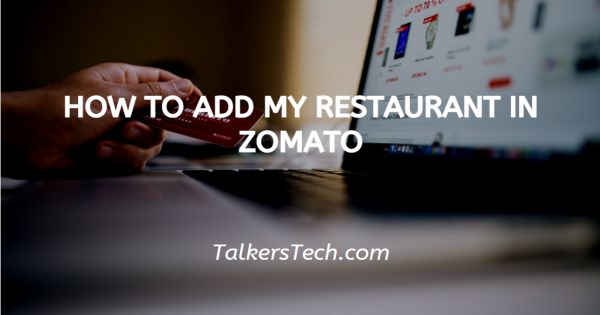 In this article we will show you how to add my restaurant in Zomato, Zomato is India's leading online food ordering sites that ensures you get fresh food delivered quickly, at your doorstep!
It has a huge customer-base and has gained immense popularity ever since the national lockdown of 2020.

Due to its massive popularity, it is also a great opportunity for new and small restaurants and food outlets to be more accessible and reach more people, thus increase their market share and business.

It helps people save time, effort and money and helps its restaurant partners to flourish and grow.

The feedback and reviews under your restaurant name attracts people to place orders and improves your Zomato ratings as a restaurant. It also instils a sense of trust in your venture.

In this article, we will learn how you can add your restaurant in Zomato in a few simple steps, so keep on reading.

To register your restaurant on Zomato, you need to first add it to Zomato. Follow the steps as explained below-
Step By Step Guide On How To Add My Restaurant In Zomato :-
Open your mobile phone or laptop and open the web browser of your preference.
On the search bar, enter the link or simply press on the link- https://www.zomato.com/partner_with_us.
This will bring you to a new page of Zomato. Here, you can add your restaurant by creating an account first or logging in using your personal email address or phone number.
Next, you will be required to fill a registration form specifying your details like name, address, number, etc.
Once you are done, click on the 'Add restaurant' icon to add your restaurant to Zomato listing.
Your listing will be subject to the verification and collection of your documents such as PAN Card, Aadhar card, Copy of FSSAI registration, pictures of restaurant etc.
Once the verification is complete, your restaurant will be listed.
Next, to register the restaurant on Business app, visit the link https://www.zomato.com/business/apps.
Search the name of your restaurant in the Search bar. This will help you know whether the restaurant is listed on Zomato or not.
If you are successful in finding your restaurant in the Zomato listing , click on 'Claim the listing'.
In case it is not available on Zomato, then you will have to repeat the process as explained above to add your restaurant.
Once either of the two, adding or claiming the restaurant on Zomato is completed, scroll down below on Zomato for Business page where you will find a simple registration form.
Fill out the form mentioning the restaurant name, your name, contact details like number and e-mail address, city, etc. The click on the 'Submit' icon.
You can also contact Zomato for Business by giving a call at +91–8039654500.
After submission of the form and verification of the account by a Zomato executive, your account on Zomato for business will be activated.
Conclusion :-
Follow the steps to successfully add your restaurant to Zomato and make your business flourish. I hope this article on how to add my restaurant in Zomato helps you get the job done!