How To Add Music To PowerPoint From YouTube
🕐 9 Apr 23
Microsoft PowerPoint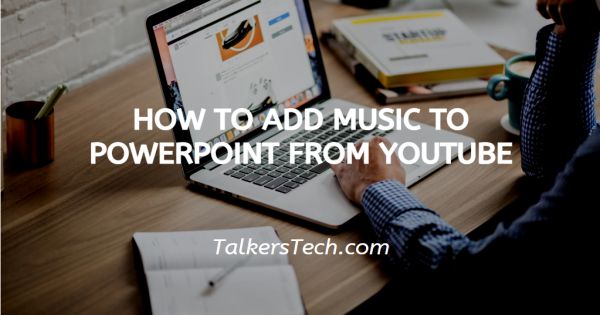 In this article we will show you how to add music to PowerPoint from YouTube, adding music to PowerPoint from YouTube makes your presentation look more enhanced and creative.
It helps to include a dynamic element to your presentation. There are several methods through which you can include a video to PowerPoint from YouTube just follow the step by step guide below.
Step By Step Guide On How To Add Music To PowerPoint From YouTube :-
Click YouTube and select the music that you want to include in your presentation.
You need to copy the link from the address bar placed at the top of the screen.

Open Microsoft presentation on your PC.
Select the specific presentation where you want to include music from YouTube.
You can choose the specific slide in which you want to include this music video.
Now click on the insert tab which is placed at the top of the menu.
The insert tab show various options like Slides, table, image, illustration, add in, in linq, comment, text, symbols And media.
Look for the media section. here you can insert video, audio as well as screen recording.
Click the option of videos from the media section. In Microsoft PowerPoint you can insert video from your device or online videos.
Click the option of online videos.

Now you need to paste the link that you have copied from the YouTube video. Paste this specific link at the address bar placed at the top for the online video.

Using this field you can also search for a specific video from the YouTube directly. for this click on the magnifying glass or you can simply tap enter on your keyboard in order to do a search.
After pasting the link on the address bar you will get the thumbnail for the specific video that you have selected to PowerPoint from YouTube.
Click the option of insert placed at the bottom of the dialogue box.
You will see that the music video along with its thumbnail is added to your PowerPoint slide. you can adjust the video thumbnail as per your own convenience.
Conclusion :-
I hope this article on how to add music to PowerPoint from YouTube helps you in this article we covered and essential guide and the steps mentioned above are quite detailed and easy-to-follow.

The pros of this method of embedding the music video as online is that it is easy and quick to use however the cons of this method can be that it require the active internet connection.