How To Add Full Song In WhatsApp Status
🕐 1 Jul 23
Whatsapp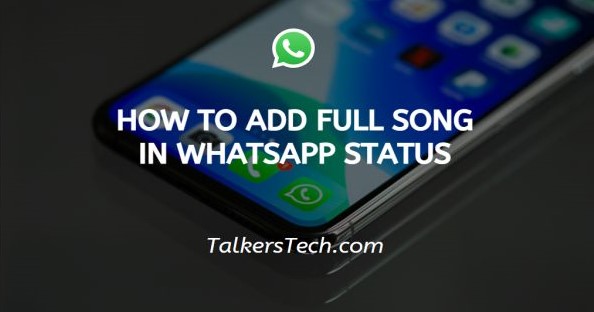 In this article we will show you how to add full song in WhatsApp status as we live in modern era, virtual world is more real than the real world. People invest most of the time in the virtual world not just to have fun but nowadays most of the work and jobs are done in the environment of virtual world.
Technology is developing at a continuous pace and new gadgets keeps on getting introduced to us. Social media platforms like Instagram, Facebook and other platforms like them keeps on attracting new users and people love them.

People share their pictures as posts on their Instagram and other platforms. One of the leading communicating platform in the world is WhatsApp, we can text, call and can do many other things on this platform.

This application also allows us to share a feature with which we can share our thoughts or dreams with people. It is known 'Status'. People can share media file as status which will exist only for 24 hours. This article is to tackle one problem which is faced by the WhatsApp's users, which is 'How to share full song on WhatsApp'.

People really like to share their favourite songs with their friends and families. This article will help you.
Step By Step Guide To Add Full Song In WhatsApp Status :-
1. If It Is A Video Song
If you have video of the song, this would be easier.
Open your WhatsApp, go to 'My Status'.
Navigate to the video song.
Now, this is the important part. People can not add full song because it only allows us to add a video of 30 seconds in one time. So you have to share it in segments.
First, add for the first 30 seconds. Now, again open my status and navigate to the video.

After that, set the marker at +30 seconds and add it.

Repeat this process until you have added the whole song.
2. If It Is An Audio Song
You will need a third-party application for this.
Download 'Audio Status Maker' from google play store, for assist you will find the picture of its logo below.

Open the application, allow all the permissions it asks for.
Tap at audio in the left-bottom.

Select the song that you want to add.

Now, tap on done.

Now, tap on share which is at top-right.

Now, tap on WhatsApp.
After that go to 'My Status'.
To add this song in full length, follow the steps which are mentioned in point 1.
Conclusion :-
Now you can add full length songs on your WhatsApp status either it is audio or video. Hope this article on how to add full song in WhatsApp status helps you and now you easily add any song fully in your WhatsApp status.