How To Add Audio To Google Slides On iPhone
🕐 1 Jul 23
Google Slides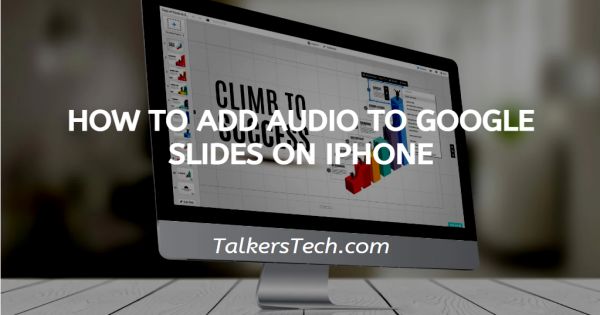 In this article we will show you how to add audio to google slides on iPhone, google slide is one of the easiest tools for the presentation. But adding audio to Google Slides can be tricky. Google slides allow both MP3 and waveform audio file formats.
A user can easily include the audio to Google Slides with the help of this detailed guide given below.

Users can easily add videos from various sources like YouTube SoundCloud on their own file saved on the device.

Including audio to Google flight can serve various purposes. The audio added to the Google slide can also be helpful to act as a background for creating a dramatic effect.
Step By Step Guide On How To Add Audio To Google Slides On iPhone :-
In your iPhone search for the specific audio file, you want to add to your Google Slides presentation.
Make sure your iPhone has the Google Drive application installed before moving forward
Now you need to upload the selected audio file to Google Drive on your iPhone. Make sure you label the audio file for an easy navigation process. Although it can also be seen in the recent option
Tap your audio file on Google Drive and there will be a share icon at the top of the page.
Click the selected audio file and you will see various options appearing on the screen.
Among all the options tab shareable link.
Open Google Slides on your iPhone.
The homepage of Google Slides will appear on your screen which shows your recent presentation along with the option of creating a New presentation with the help of the template.
Now you need to copy the link and paste the copied link on your Google slide presentation.
You can insert this audio file link to any of the slides of your Google slide presentation.
When you tap the link, it will start playing. Sometimes, it can also open another window.
In case you want to play this audio automatically again go to the insert tab placed on the menu bar.
Click the option of the insert.
A drop-down menu will appear on your screen. Click the option of audio.
Select the audio file that you have saved on your Google Drive and click the select button.
Conclusion :-
I hope this article on how to add audio to google slides on iPhone helps you in this article, we covered an essential guide and the steps mentioned above are quite detailed and easy to follow.