How To Add A Profile On Netflix On TV
🕐 1 Jul 23
Netflix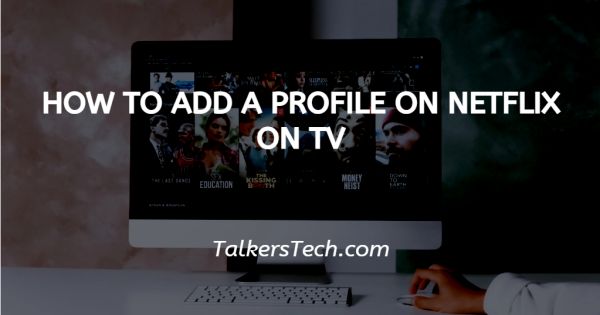 In this article we will show you how to add a profile on Netflix on TV, Netflix profiles are a great way to share with your family and friends. Users can create up to five profiles and each profile has its own recommendations along with history.
This is very useful in case you want to create a different profile for your kids and include the recommendations according to their preference.

The number of profiles on Netflix completely depend on what type of Netflix plan you are subscribing to.

Netflix is one of the most popular entertainment streaming platforms which provide an excellent choice of movies, TV shows and other series documentaries.

It includes a huge library of refreshed content which can be watched by users across different devices.

In case you are looking for a solution on how to add a profile on Netflix on TV this is the right article for you.
Step By Step Guide On How To Add A Profile On Netflix On TV :-
Open Netflix on your TV.
Scroll up to the specific row where you see the search bar and click the profile.
You can also click the profile icon.
A profile screen will appear in front of you which will show all the created profile in your Netflix account.
In Netflix you can easily create 5 profiles.
In order to create one more profile you need to click the + sign.
On the next screen Netflix will ask you to enter the name for the profile.
You can also customize the profile picture of the newly created Netflix profile on TV.
Netflix includes free designed Profile pictures that you can opt for your profile image.
In case you are creating and additional profile on Netflix on TV for the kids you need to click the checkbox for the kids action.
This will restrict the maturity level and will suggest the content according To the age limit.
After creating the new profile and selecting the profile picture for the new profile on Netflix click continue to save the procedure.
After doing so moved back to manage profile screen and now you can select the newly created profile to stream your favorite TV shows, movies, Series, documentaries and others.
Conclusion :-
In this article we covered and essential guide on how you can add a profile on Netflix on TV. The steps mentioned above are quite detail and easy-to-follow.

I hope this article on how to add a profile on Netflix on TV helps you and the steps and method mentioned above are easy to follow and implement.