How To Activate Amazon Prime Metropcs
Last Updated : Apr 8, 2022
IN - Amazon Prime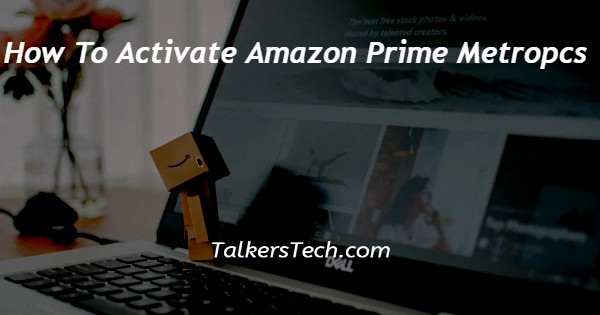 In this article we will show you how to activate amazon prime metropcs using Metro PCS is very helpful as it helps the user to save the cost on Prime subscription and offers a variety of benefits. It is a prepaid wireless service provided in the US.
Now you can easily connect your prime membership with different services to increase your entertainment experience.
Amazon Prime is one of the most popular entertainment streaming platforms across the globe. With its monthly subscription users can get to see a lot of content such as movies, series, documentaries, TV shows and others.
Users can also add channels such as showtime HBO for increasing their entertainment experience.
When you sign up with Metro PCS you will automatically be able to access the Amazon Prime subscription along with its benefits. in case you are looking for a solution on how to activate Amazon Prime Metro PCS this is the right article for you.
Step By Step Guide On How To Activate Amazon Prime Metropcs :-
First you need to sign up to a specific metro plan.
The plan should be a $60- unlimited rate plan.
When you activate this plan you will get a notification from Metro which will lead you to Amazon so that you can easily create your Amazon account and start your Amazon Prime membership.
As long as you stick to this plan offered by the metro you don't require to pay any amount for prime subscription.
This will save your money for paying extra cost for Amazon Prime subscription.
In case you cancel your unlimited rate plan for which to choose a different plan that does not include the subscription of Amazon Prime then it will immediately terminate your Amazon Prime membership.
After changing your metro plan, you need to then sign in with your Amazon account to access Amazon prime and its benefits.
In case you already have a prime membership while you're asking for the metro plan you need to first terminate the current membership plan.
To cancel your current prime subscription, you need to click the option manage Prime from the setting page.
Select cancel my benefits.
It will display the date when your access to the prime membership and its benefit will terminate.
After the termination period you need to reactivate your prime membership through metro as discussed above.
You also need to visit the registration page again so that you can enter your current Amazon account with Amazon Prime credentials.
Conclusion :-
I hope this article on how to activate amazon prime metropcs helps you and in this article we covered an essential guide and the steps mentioned above are called detail and easy to follow and easy to implement.