How Many Devices Can Be Logged Into Netflix
🕐 9 Apr 23
Netflix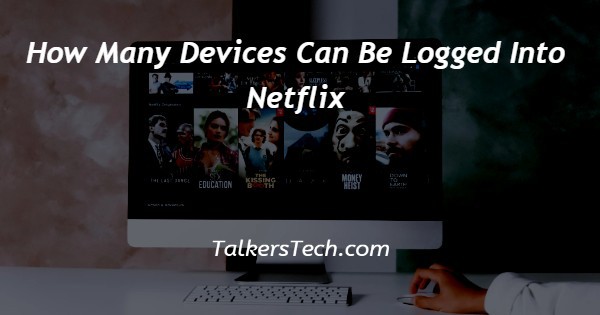 In this article we will show you how many devices can be logged into Netflix, Netflix is an online media streaming app that operates on a subscription system and allows you to watch movies and shows from the comfort of your own space.
You can use the app on several devices like your TV, tablet or mobile phone.
This allows a user who has the required plan, to share his or her account with others. Netflix also has the feature to add in a new profile.
Thus, under a single account, you can have upto five profiles. In this scheme, each profile's layout, suggestions, etc. will be customized as per their personal viewing activities.
Earlier, Netflix had put restrictions on the number of devices you can log into it to access the content of the app. However, now there is no such restriction.
There is only a limit to the number of screens that can be active from a single account.
The platform usually shows you a notification alerting you if the number of screens have reached its capacity.
In this article, we will learn more about the devices you can be logged into while using Netflix.
Follow the step-by-step explanation below and you will understand how many devices can be logged into Netflix.
Step By Step Guide On How Many Devices Can Be Logged Into Netflix :-
The first thing that you need to know and understand is that the number of devices through which you can access Netflix depends on the plan that you have chosen and paid for.
There are several plans available for users, each has different screens. In the Basic plan, you will have only one viewing screen. What this means is that even though you can login from multiple devices, you can stream from a single screen, irrespective of the device.
The Standard plan is the next. This allows you to simultaneously screen from two different devices.
And then finally, is the Premium plan. This has a total of four profiles, implying that you can view content simultaneously from four devices.
You can create up to 5 profiles in total to help keep separate the content and preferences of the different people accessing a single account.
Thus, now you don't have to be worried about the total number of devices on which you can log in.
All you need to know is that depending on the plan you have chosen, Netflix will restrict the simultaneous viewing from different devices.
Thus, if you wish to increase this number, all you need to do is opt for the Premium plan.
Conclusion :-
I hope this article on how many devices can be logged into Netflix helps you and the steps and methods mentioned above are easy to follow and implement.