How Do I Export An Entire WhatsApp Conversation
🕐 1 Jul 23
Whatsapp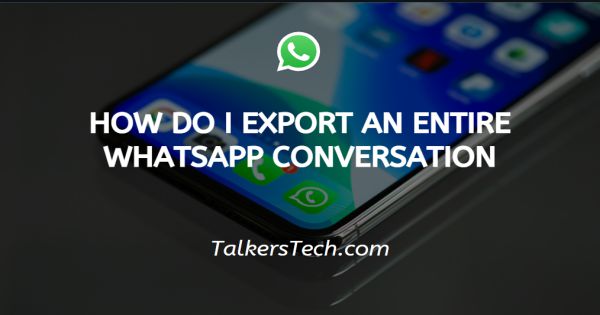 As we know WhatsApp has become a very popular app in the world and it plays an important role our daily communications. In this article we will show you how do i export an entire WhatsApp conversation
Many of the people communicates with their friends and some important person so sometimes you need to keep your chat forever in your mobile phone or other device, if you think about it, it is very likely that you have at least on chat that means a lot to you and that you are rather keep forever, so now in this article we will show you the proper solution, how can you export an entire WhatsApp conversations?

If you want to export your whole WhatsApp conversation so you have to face to different process because if you have android smart phone so you have a only way to export your conversation via email cloud storage options are not available.

Apart from that if you have iphone (iOS) so it is easy to export your whole WhatsApp conversations and it consists in two steps first is to create a .zip file containing your all conversation and second you can choose which app you want to use to either send the .zip file of your chat via email or to upload it directly to the cloud like: email via cloud, cloud upload to dropbox, cloud upload to google drive.
How can you export an entire chat for Android users
If you have android smart phone so it makes hard to export entire WhatsApp messages and media of your chat, when you export your chat by using smart phone so there are two options are available like: 1. exporting chat with media file 2. Exporting chat without media file,

It is a simple process that will allow you to backup all your chat in a matter of minutes, you will be sent a mail containing your WhatsApp chat in the form of .txt and .zip file which is containing your messages and media file respectively, so let's begin the process and follow the steps which is given below:
First open the WhatsApp application on android smart phone and go to the conversation.
Then go to the three dots icon which is situated at top right corner and select the more button.
Then tap on the "export chat" option after that select the mail option next.

Then you will see a window with two options, "without media" or "including media" you can choose either option.
Then you be presented with a list of conversation , select the once that you liked backup via email and whether you would like them with media or without media.

After that click on the "attach media" option.
Then processed to input your email address and click the send button.

Once you have sent the chats, you can go through your, mailbox to download the chat backup any time it will be saved in your mailbox safely.
Conclusion :-
Hope this article on how do i export an entire WhatsApp conversation helps you and you can now easily export your WhatsApp conversations