How Do I Change My Password On Instagram If I Forgot It
Last Updated : Oct 26, 2021
IN - Instagram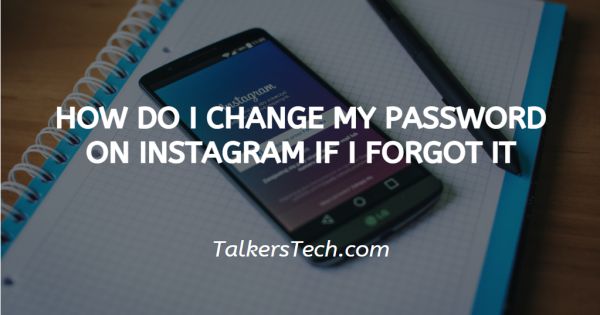 In this article we will show you how do I change my password on Instagram if I forgot it, in case you forget your Instagram password or someone changed it without your permission this application offers the easiest way to recover your password.
Various people across the world use Instagram to share picture story reels both on private and public accounts.

It is crucial to secure all the information with a strong password. You can change your password either from the website or the Instagram application. It is important to have a good security practice for your Instagram account.

For safety you should also refresh your password once in a while. Make sure the password that you choose for your Instagram account is strong and unique which is difficult for hackers to track.

Follow the steps given below in order to change the password on Instagram in case you forgot it.
Step By Step Guide On How Do I Change My Password On Instagram If I Forgot It :-
Open the Instagram application on your smartphone. in case you do not have Instagram on your smartphone simply install it from your Play Store.
A sign-in page will appear on your screen. Click on the option of get help signing in just below the option of log in.

Instagram helps you find your account by entering your username, email or phone number that is linked to your account.
Click on the option of next after entering the details.
In order to gain access to your account again Instagram offers you the option of email or SMS to send the recovery code which can help to change your Instagram password.
You can also login with the help of Facebook If you are using a linked facebook account.
Choose the option of send an email. Instagram will send you an email to the same address that you have used for signing up your Instagram account.

Open the mail that you have received from Instagram to change your password.
Click on the option of login as (username) or you can also click the option of reset your Instagram password just below it.

Instagram will show you a password reset page.
Enter your new password and make sure that this password is strong and a secure one.

After typing the password click on the option of reset password. Now you can get straight back into your account after changing your password.
Conclusion :-
I hope this article on how do I change my password on Instagram if I forgot it helps you, in this article we shared and essential guide. There are various methods to get back to your account using your email ID, username or Facebook account.