How can i save my WhatsApp conversations on pc
🕐 1 Jul 23
Whatsapp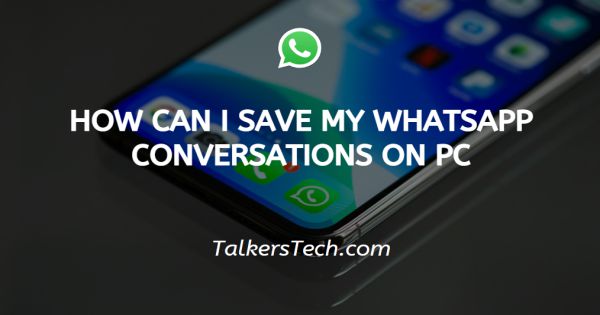 Now we are going to discuss the very interesting feature of WhatsApp that is very cool and easy because if I say you can run your WhatsApp application on pc so it's a common to all, with the help of web. In this article we will show you how can i save my WhatsApp conversations on pc?
WhatsApp.com you can do it, but if I say, by using this feature you can also save you all conversation and media files on pc, so everyone will be shocked, so don't be shocked! Because here I will guide you a very simple and interesting way to do this, many of people are thinking that, is it possible, yes! It is possible here.

Nowadays you know, hardly even a single person who don't use android smart phone, but every smart phone has a limitation of storage, that's why you couldn't save your all data on your android phone, so you need to backup your data to another device either is pc or laptop, so if you want to save your WhatsApp conversation or chats on pc, so this article will help you a lot.

There are many ways to save your WhatsApp chat or conversation on pc but we will tell you the best and simplest way to do it, so let's see the way, how can you do this?
Save WhatsApp chats on pc by using third party app
By using third part app "mobile trans" you can transfer and save your WhatsApp chats as well as all media files, let's see, how it works?
First you have to download and install mobile trans on your windows computer or mac. After that connect your phone with pc using USB cable.
Click on the WhatsApp transfer tab to process with our task.
After that select WhatsApp app at the left side of the screen, inside it you can see many options like: transfer, restore, backup, etc,
Then select the "backup WhatsApp messages".
Then click start button to backup your WhatsApp data or chats and wait until the process completes successfully.
After that finally you will receive successful message on your screen.
Then tap on the view button you can see the WhatsApp conversation files.
So following this method you can easily backup or save your WhatsApp messages on pc, this method is highly recommended because the transfer happens without any data loss and you can rely on this method.
Transfer WhatsApp messages on pc directly from phone memory
This is a very basic method to transfer or save your WhatsApp messages from you android phone to your pc via phone memory. Let's follow the below process:
First, connect your smart android phone with pc using USB cable.
Then go to the internal memory and select the "WhatsApp folder" in your android device then copy it and paste it on the desired device in your pc.
Go inside the folder and click the messages listed in it, and select the "export to pc" option to trigger the transfer process, a few minutes all messages will be stored with the extension .SME format.
Conclusion :-
This file format is quite difficult to read and you will not be able to read those messages because its incompatible format. You can finally perform the above process by adopting third-party app. Make the content in the WhatsApp folder readable with the help of the sophisticated technique followed by the incredible tool in the digital markets

Apart from that you can also save or transfer your WhatsApp chats or conversation on pc with the help of email chat method, but this method we have discussed before, so you can find this method from our previous article. Hope these both method will be fruitful for you and this article on how can i save my WhatsApp conversations on pc helps you.