How Can I Find Someone From Instagram On Facebook
Last Updated : Sep 28, 2021
IN - Instagram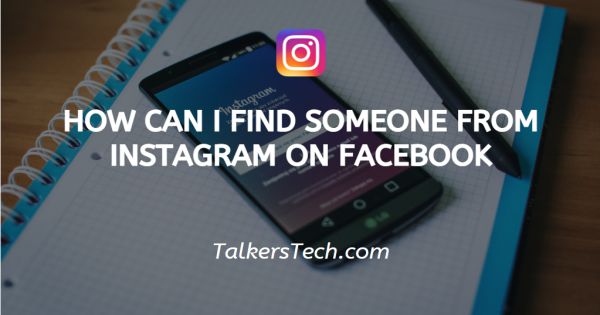 In this article we will show you how can I find someone from Instagram on Facebook, it is extremely beneficial to sync your Facebook and Instagram accounts. It allows you to mirror your posts and content on two platforms simultaneously, thereby contributing to your growth.
Step By Step Guide On How Can I Find Someone From Instagram On Facebook :-
Unlock your phone and swipe up o the home screen to open the App tray. From this grid, scroll down and click on the 'Instagram' app icon.

This will bring you to your Insta feed. Here, you will be able to see all the latest posts put up by the people and pages you follow. At the bottom of the page, you will see a menu of options with different purposes. Tap on the 'Profile' icon placed at the right most side.

On your profile, you will see the 'Menu' icon at the top right corner of the page represented by three horizontal lines.

As soon as you click on it, a pop-up menu will appear on your screen with various options to from, tap on the 'Settings' icon.

A new list will show on the screen with various categories. Right under About, you will see 'Facebook' written. Click on the 'Accounts Center' option below it.

You will be taken to a new page, here; you will be able to see various setting options. Click on the first icon, this will show you the accounts that have been connected. Make sure you see both your Facebook account as well as your Instagram account.

If not, then you can make sure that both your accounts are logged into by clicking on the 'Logging in across acounts' icon to check.

Now, go back to your App tray and open your Facebook app. On your home page, tap on the 'Menu' button depicted by three horizontal lines at the top right corner of the page.
This will open an elaborate menu. From the grid, choose the first option,that is 'Friends'. You can also simply click on the 'Magnifying glass' icon located below the Menu icon.

Now, under the 'Suggestions', you will be shown suggestions of all the accounts and users linked between your Facebook account and Instagram.
You can now go through the list and add people to your account by sending them a friend request.
Conclusion :-
This is how you can expand your network and social circles by syncing the two accounts which makes finding friends on different platforms extremely easy and quick!

I hope this article on how can I find someone from Instagram on Facebook helps you and was worth the time and we, at the Talkerstech are filled with gratitude that you chose us to find a solution to your problem. For more of such pieces, come again.