How can i disable Whatsapp without deleting it
🕐 21 Feb 23
Whatsapp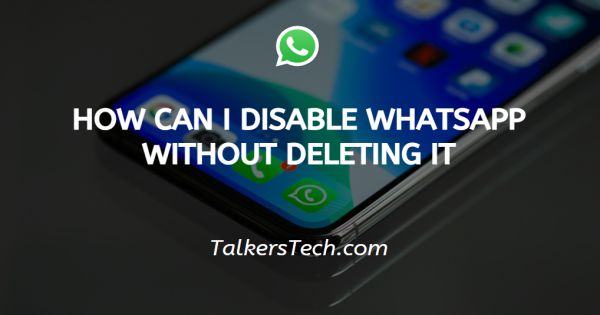 Whatsapp has become one of the very popular messaging apps in the world, even it's a integral part of everyone's life. In this article we will show you how can i disable Whatsapp without deleting it.
By using this application you can easily communicate with your friends or family and stay touch with them, apart from that Whatsapp has many upgrading features that why people are taking interest on it that's why Whatsapp has crossed around four million above users in the world.

There are many applications running on social media platforms like: facebook, twitter, Instagram, snapchat where you can easily go to log out and go invisible but when it comes to Whatsapp as long as you have it on your smart phone, you simply can't get rid of notification.

If you want to invisible for your contacts without deleting this app so there are ways to catch that, Whatsapp doesn't provide you an option to invisible or act like you don't check your texts, there are other ways to hack it for that "me time" if you are shown as online to your contacts.

Now officially there is not a one-tap solution to silence Whatsapp for a limited time period, but we will discuss and give you the solution of this problem without even downloading an additional app or disable internet or silencing your mobile phone.
How can you disable Whatsapp without deleting the app?
If you want to disable your Whatsapp without deleting it so there are four simple ways to come out of it by using official Whatsapp setting you can do this very easily, let's begin the step-by-step process below:
1. Set your Whatsapp tone on silent mode
If you have a silent ringtone in your mobile phone then set this silent ringtone as Whatsapp notification ton if you don't have then download it and set. How will you set notification ringtone on Whatsapp?
First open the Whatsapp app on your phone.
Then go to the setting.
Then click on the notifications option.

And select silent ringtone as your Whatsapp notification tone and call ringtone.
2. Disable Whatsapp notification from setting
If you disable Whatsapp notification by using default setting so in this case whenever someone leaves you message on Whatsapp, it will not be display or pop up on your mobile screen, and the app icon might show unchecked message but it doesn't matter unless you pick up your phone to check, how can you do this process? let's see:
First open the app and go to the setting icon.
Then tap on the notification icon and disable all notification for Whatsapp.
Disable vibration pop up as well.
3. Disable notification light from Whatsapp setting
First open the application and go to the setting button and click on it.
Then tap on the light option and select none button and also remove the Whatsapp shortcut from your home screen.
So as you don't see the alert unless you open the main app page. You will keep receiving your message but can check them when you choose to.
4. Turn off mobile data
First open the phone setting and go to the apps option.

The select the Whatsapp app.
Then click on force stop option.

After that click on data usage option and select "disable background data" option and revoke all app permission for Whatsapp.
Conclusion :-
By using these all ways you can easily disable your Whatsapp without deleting it. Hope this article on how can i disable Whatsapp without deleting it helps you.