How To Hide Individual WhatsApp Messages
Last Updated : Dec 24, 2020
IN - Whatsapp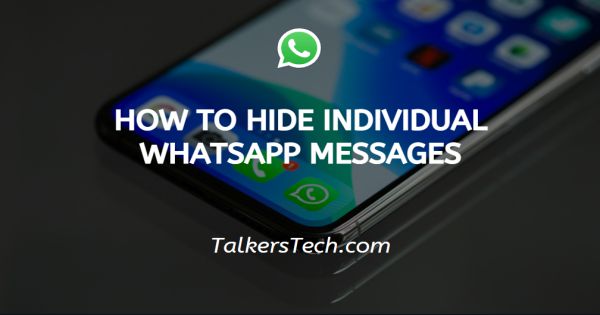 In this article we will show you how to hide individual WhatsApp messages, social media provides us many features and with many features many responsibilities, crime, scams, happiness, bullying comes along too as an additional pack.
We love social media for sure but some do not understand the power of social media, that what it can really do to the world, how it can effect various people.

Social media gave us many platforms and WhatsApp is one of them. WhatsApp is basically a texting platform where we can text various people, but we need mobile number to register an account.

WhatsApp needs a number to run that's why it is one of the most secure and trustworthy platform, in other social media medias accounts can be formed by just an email id. WhatsApp also provides us the facility of end-to-end encryption which is really great deal.

This means that nobody even can't access our text messages exchanged with someone, unless someone gets physical access to our phone obviously.

In this article we will tell you how you can hide chats in WhatsApp. I want to make it clear to you that you cannot hide an individual message that you received or sent, you can only delete that message and it won't be visible then and you won't be able to recover it again.

What you can do is hide the whole contact-chat. To do that you have 2 processes, follow the steps mentioned below to achieve the result mentioned above.
Step By Step Guide On How To Hide Individual WhatsApp Messages :-
First Method
Open WhatsApp.
Find the contact who's chat you want to hide.
Hold it
Tap at the icon marked in the picture attached below.
Your chat is archived.
But remember this, as soon as you will receive a text message from that contact, the chat will be visible again.
Second Method
You have to download an application from google chrome as it is not available on Google play store.
Go to google chrome and search for 'GBWhatsApp APK'.

After downloading the APK file, install it.
After installing, it will ask for some permissions allow all of them.
When you will login to your WhatsApp account via GBWhatsApp you will see that the interface is similar.
Now select the chat you want to hide.
Long-press on it.
Tap at the 3 dots on the top-right corner, tap at it.

There you will see an option which says 'Hide', tap at it.

There you have to set a password.

To access the hidden chat, open the application.
Tap at the top where 'WhatsApp' is written.

Now enter the password and access your safe chat in your WhatsApp.
Conclusion :-
These were the steps by which you can hide WhatsApp chats. I hope this article on how to hide individual WhatsApp messages helps you.