Force Stop WhatsApp
🕐 1 Jul 23
WhatsApp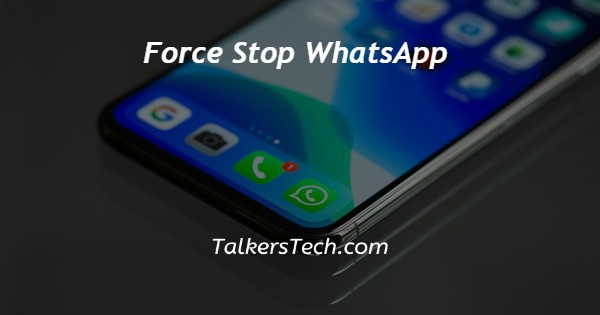 In this article we will show you the solution of force stop WhatsApp, in case you do not want to use WhatsApp temporary you can always choose to the option to force stop WhatsApp.
When you click the option of force stop WhatsApp it will make sure that you do not receive any message until you want to on your Android device.
In case you are looking for a solution on how to force stop WhatsApp this is the right article for you.
Step By Step Guide On Force Stop WhatsApp :-
Open settings on your Android device.
It will show you various options such as about phone, security status, display, Bluetooth, connection and sharing, lock screen, theme, wallpaper, apps, additional settings and others.
Click the option apps.
The app will show 5 distinct tabs named system app settings, manage apps, dual app, permission and AppLock.
Click the option manage apps.
On the next screen you will see four options placed at the top of the screen called update, uninstall, find apps and permission.
Below this you will see the list of all the installed applications on your Android device.
You can easily search this application as per status, app name, usage frequency, And installation time.
In the search bar type whatsapp.
On the next screen you will see the information of whatsapp such as storage, data Usage and battery, permissions, notifications, advanced setting and other options.
At The bottom of the app info, you will see three options called force stop, Uninstall update and clear data.
Click the option force stop placed at the bottom left corner of the screen of the app info page.
Once you click the force stop option A popup box will appear on your screen which will inform you that if you force stop an application it may misbehave.
Below this popup box you will see two options call cancel and ok.
Now In order to force stop WhatsApp you need to click on the option of K placed at the bottom of the force stop pop up box.
Once you click this option, it won't allow the WhatsApp service to run in the background.
Force stopping WhatsApp will make the application stop working.
Whenever you are ready to use the WhatsApp again you just need to open the application again on your Android device and it will automatically start working as usual.
There is no danger info stopping WhatsApp on Android application as it simply means that a user want to restrict WhatsApp for some time and it will automatically stop running in the phone background.
Conclusion :-
I hope this article on force stop WhatsApp helps you and the steps and method mentioned above are easy to follow and implement.