Amazon Pay UPI Not Verifying Mobile Number
Last Updated : Dec 6, 2022
IN - Amazon Pay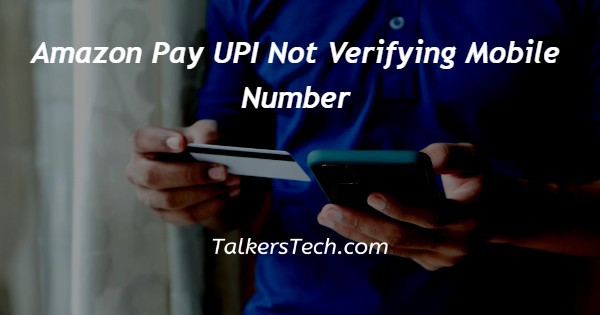 In this article we will show you the solution of amazon pay UPI not verifying mobile number, when you create a UPI account in the Amazon application you will see that the mobile verification step is unable to complete successfully and the popup of verifying your mobile number page appear on your screen.
You can easily fixed issue of Amazon UPI verification by clicking some setting option on your phone and then you will be able to enjoy the Amazon pay UPI benefits on your device.
In case you are looking for a solution on how to fix Amazon pay UPI not verifying your mobile number this is the right article for you just follow the steps given below in order to check Amazon pay UPI mobile number verification.
Step By Step Guide On Amazon Pay UPI Not Verifying Mobile Number :-
Login to your Amazon account.
Click the three horizontal line placed at the bottom right corner of the screen.
It will show you various options on the screens as your order, buy again, your account, your wish list, Amazon pay, shop by category and others.
Click the option- amazon pay.
At the top of the Amazon pay home page you will see various options such as Amazon pay balance, Amazon pay later, and Amazon pay UPI.
Click the option Amazon pay u p i.
Now click on the option proceed to setup Amazon pay UPI.
Now you need to select your sim card for verifying your mobile number that is associated with your bank account.
Once you click proceed Amazon will not verify your mobile number and will show you and error along with the two option called resend SMS and cancel.
Click the option resend SMS and then go back to your message application on your Android device.
To Solve this issue go to the homepage, and then click on the message application.
Once the message application is open you need to click on the dots placed at the top right corner of the screen.
After this you will see Four options in the drop-down menu called favourite, blocked, mark all as read and setting.
You need To click the setting option from the drop down menu.
Once you click on the setting option you will see various options regarding notification management, flash message, smart messaging, set rules, display recent contacts and others.
To solve the issue of Amazon pay UPI mobile number verification you need to make sure that you disable the option of allow flash Messages.
Once you disable the option make sir to remove Amazon pay application from the recent app.
Now start with the whole procedure again and this time you will be able to verify your mobile number for creating Amazon pay UPI account.
Conclusion :-
I hope this article on amazon pay UPI not verifying mobile number helps you and the steps and method mentioned above are easy to follow and implement.