There are thousands of themes available in the market, but finding a neatly coded theme that caters to your needs is not an easy task.

What makes a theme good? A good theme should be responsive, Fast, and also make your content attractive.

While many themes fit in this category, it can be hard to find the best one so If you are looking for a theme that does everything simply, efficiently, and Screamingly fast then Total might just be the option for you.

Developed by the renowned brand WPexplorer, Total is so easy to use that even without any prior knowledge of HTML you can build well-designed and professional websites that perfectly fit your business.

The theme has default settings and samples that are great to get a beginner up and running and its hooks, filters, and excellent documentation make the theme also very suitable for projects that need a lot of customization.

In this article, I will review the Total WordPress theme by WPexplorer to help you choose the desired theme for your website.
Total Theme In A Nutshell :-
As the name suggests Total is a multipurpose theme. It comes with all the features that you need to create a complete website. The theme is very nicely coded with great use of hooks and filters.

It has a very impressive design with vibrant color options that can also be changed. The theme is very responsive and amazingly fast. You can customize almost anything in this theme. It has a built-in theme customizer that lets you do both frontend and backend editing.

Developers have built Total as SEO-friendly as possible. This will help your website to rank higher in search engines such as Google and Bing. It is also cross-browser compatible and supports WooCommerce –an open-source e-commerce plugin.

And not only that, you also receive multiple website designs and ready to use section templates.

Total is packed with everything you need. It is no surprise that Total has made over 45,000 sales.
What Makes Total Unique ?
Total is an all-rounder theme that covers everything you need to create a powerful website and also leaves room for adding something creative to it.

It is built to be highly customizable, If you can imagine it, you can create it. You can change the whole look and layout of your website without having to buy a new theme.

The theme includes WooCommerce, WPBakery, Revslider, and more amazing Plugins, which alone costs almost the same as this theme.

Total has an exhaustively long list of features, some of them are:
Responsive design
Unlimited colors
SEO optimized
Bundled plugins
Fast operations
Premium sliders
Front end and back end editor
Auto updates
Full and boxed width layouts
Header styles
Megamenu
Custom fonts and icons
Custom post types
Child theme ready
Quick dashboard demo importer
Author box design
Custom tools for bbPress
You can check the whole list here.
Features Overview :-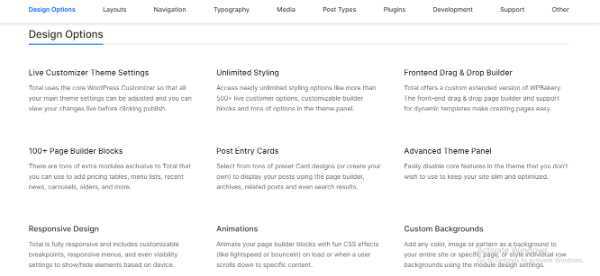 The list of features is so long that it will not be possible to cover all of it in one post. In this section, I will be reviewing some of the best features of Total.
Responsive Design
Unlike most of the themes that claim to be multipurpose but only are bloated with features, Total has everything you need but also works smoothly.

It is compatible with every device so you can add your content without worrying about its compatibility.

Its responsive design offers better usability and readability on devices such as smartphones.

It automatically changes its layout based on the screen size and resolution. Before Responsive themes, websites had to create different websites for different devices which were very hectic.
Child Theme Ready
The child theme is very useful. All the changes you make in your theme get erased every time an update comes and then you have to code all that again but if you have a child theme then you can save your codes from any updates.

Total made sure to add proper functions regarding the child theme.

A child theme helps in the faster development of your website. You don't need to code everything from the start, you can make changes as you go.
Frontend And Backend Editing
Total gives you free access to WPBakery – A page builder plugin that lets you create a layout with simple drag and drop. You don't have to go through the trouble of writing shortcodes.

You can do both frontend and backend. Frontend editing lets you make changes to your website while previewing the changes live.
SEO Optimized
The prime aim of creating a website is to be found on the search engine. You don't want to have good content and still rank low in the search results.

The theme you use in your website plays a very important role in your website's ranking. Total's developers have made sure that your theme stands its ground when it comes to SEO.

Total is developed according to the up-to-date coding standards and is written very neatly and efficiently.
Customer Support
One thing that customers like the most about Total is its Customer support. Good support can rarely be found.

But if you have one, you experience the value of the Product and how much the developer cares about it. Total offers laudable customer support for your website.

Total responds quickly to your queries and troubleshooting. Users can easily create an open support ticket to communicate with Total's support staff and ask questions with them very easily.

Not only that, AJ Clarke, the developer of the theme himself responds to the users' queries and resolves them instantly.
Megamenu
Total allows you to create Megamenu and limitless page links using the default WordPress menu. The Megamenu in total is very easy to configure and can be created in very little time.
100+ Page Builder Block
Total has many exclusive modules which you can use to create pop-out windows. You can add siders, archives, Google maps, charts, pricing tables, and much more. With the variety of Builder blocks, You can create your website any way you want to.
Bundled Plugins
Total comes with premium plugins like WPBakery, Templatera, and slider revolution which are worth more than the price of the theme itself.

WPBakery - It is a page builder plugin that lets you create a layout with simple drag and drop, because of this Total supports both front and back-end editing. Templatera is a complementary add-on that comes with WPBakery, it can be used to create amazing templates.

Slider Revolution - This plugin can be used to create beautiful sliders, welcome mats, and much more.

Total is also compatible with plugins like WooCommerce- an open-source e-commerce plugin, Yoast SEO, bbPress Forums, etc.
Fast Operations
Your content remains unrecognized if your website is not fast enough. No one wants to use a site that takes ages to load. Google allegedly ranks the websites based on their loading so you might not want to take the risk.

Total is created keeping the speed in mind. It is coded for optimum speed. The scripts do not load unless necessary and the code output is also to a minimum to make sure your website is fast.
Total Plans And Pricings :-
Total is not only a multipurpose theme that is packed with everything you need to create a successful website but it also goes easy on your wallet.

It provides premium plugins that are worth more than the price of the theme. No one provides such features for free while delivering an exceptional product.

Total is available on Themeforest for $59. In all honesty, I feel it is a very decent price for such a neatly coded, organized, and easy-to-use theme. It is quality checked by Envato.

With the theme you get future updates and six months of support from WPexplorer. If you want You can get 12 months of extended support for $17.63.

Seeing the price of the theme, I don't think you can get a better deal in this range. Many brands do hefty claims but only give you a bloated theme that does not even work properly but with WPexplorer you only get a quality product.

Click here to buy Total
Conclusion :-
WPexplorer does a great job of creating a theme that fits everyone's requirements. Total is a theme that can be used by both beginners and professionals. The theme is very cleanly coded and has put good use of Hooks and filters.

The customization options are incredible. You can change the whole layout of the theme without having to buy a new one. Developers have left enough room for creativity. The complementary plugins given with the theme only add more reasons as to why one should buy Total.

The theme has a clean, organized design and is not bloated unlike the other multipurpose themes in the market.

To conclude, there is not a better theme available in the market at this price range.