The web hosting industry is full of providers of all shapes and sizes, working hard to build a reputation for excellent uptime, reliable loading speeds, and responsive, knowledgeable support.

For example, ScalaHosting, a host headquartered in Texas, urges its customers to share their experience with other users on platforms like TrustPilot. The results are pretty obvious – more than 500 TrustPilot reviews and a TrustScore of 4.9 stars.

But does this reflect the actual quality of the service?

We decided to check out their managed VPS solutions and find out.
ScalaHosting: Just Another Hosting Provider or a Company That Stands Out From The Crowd?
ScalaHosting has been in the business for more than 14 years now. Normally, this would mean they are doing something right. However, when it comes to web hosting, this is not necessarily the case.

Many hosts start off strong and maintain high-quality services during the early years, only to loosen the standards when they gain a substantial customer base. ScalaHosting appears to be different.

Reading through their website, you get the impression that they know what they need to do to improve the most important aspects of their services and make the entire user experience more enjoyable.

From our experience, they have already made some good progress, and they certainly haven't stopped implementing exciting new features to make users' lives easier.

Here's how they're optimizing their services in a few important aspects.
Performance
ScalaHosting is a global brand, so their customers need excellent loading speeds worldwide. ScalaHosting's own servers are situated in three data centers – one in Europe and two in the US.

This doesn't sound like a lot, but they recently signed a couple of contracts allowing them to use the infrastructure of some of the world's biggest cloud providers – AWS and DigitalOcean.

As a result, you can now deploy your ScalaHosting VPS in one of a total of 24 locations spread all around the world. Because the data is closer to your customers, you have a better chance of achieving the loading speeds you're after.

Optimized servers, 100% SSD storage, and support for the LiteSpeed and OpenLiteSpeed web servers can also help in that respect.
Uptime
Pretty much all hosting providers promise excellent uptime and reliable performance, but ScalaHosting is one of the few that can prove it to you.

In their Terms of Service, you'll see an entire section dedicated to their uptime guarantee and the refund you're eligible to should they fail to keep their promise.

During our testing, we experienced no unscheduled downtime or compromised performance.
Quick, responsive support
To cut down on the expenses, many hosts outsource their customer service duties to third-party companies. A single customer service agent often needs to deal with the clients of multiple hosts, resulting in subpar quality.

ScalaHosting's customer care and support operations are in-house. They seem to be pretty keen on providing quick support, as well, promising 30-second and 15-minute response times on their live chat and ticketing systems, respectively.

Our experience suggests that they're usually much quicker than that, and it's not like the speed compromises the quality. In fact, ScalaHosting has built a reputation for friendly support staff who know what they're doing.
Flexibility
Regardless of how big your business is, ScalaHosting appears to have a solution for you. The cheapest virtual server has just two CPU cores, 4GB of RAM, and 50GB of SSD, and you can build your way up to the most expensive preset plan with 9 cores, 18GB of RAM, and 320GB of SSD space.

However, you don't need to stick to the preset packages.

ScalaHosting gives you the chance to have your own custom configuration and build your virtual server with the hardware resources you need.

You can choose how much storage space and RAM you'll need and set the number of CPU cores. You can even choose your control panel and web server.

This way you won't pay for resources you're not using.
Innovation
Many hosting providers use off-the-shelf products to optimize their services and make them easier to manage, configure, and use.

There's no shortage of systems and management tools to choose from, but it's often difficult to adapt them to the specific hosting environment the provider is trying to create.

ScalaHosting's approach is a little bit different. Although they too use a few tried and tested solutions, they also create some custom tools designed explicitly for their infrastructure.

The SShield security system is a prime example. It's a custom-built service that works in the background and uses artificial intelligence to detect and stop more than 99.9% of all known cyberattacks.

SShield is available on all ScalaHosting managed VPS plans completely free of charge.
Managed VPS Hosting - ScalaHosting's Main Focus :-
Although ScalaHosting's portfolio of services includes shared and reseller hosting, their main focus has always been on the managed VPS plans. If you think about it, virtual private servers make a lot of sense, especially if your project has started gaining some momentum.

Thanks to the guaranteed resources, you get much faster, more reliable loading speeds for a marginally higher price than a shared account. At the same time, the dedicated IP and the isolation layer provided by the virtualization technology improve your account's security.

Running an entire server needn't be difficult, either. With ScalaHosting's managed VPS solution, you get the virtual machine all set up and ready to go. Scala's technical experts are responsible for deploying the server and installing everything required to support your website.

The web hosting control panel is one of the tools they set up, and this is where ScalaHosting can offer something truly unique.
SPanel - ScalaHosting's Own VPS Management Platform :-
Although it was released more than 25 years ago, cPanel continues to be the control panel of choice for many website owners. However, after a few recent changes to its pricing policy, many providers and users started looking at the alternatives.

ScalaHosting is not among them.

Instead of implementing a ready-made control panel, they decided to build one themselves. The result is SPanel – an all-in-one management platform created and developed by ScalaHosting and specifically aimed at VPS users.

SPanel takes all the tools you need to manage your server and the projects hosted on it and wraps them in an intuitive browser-based interface. Instead of a black screen with a blinking cursor, you have a comprehensive platform with buttons, toggle switches, and checkboxes.

As a ScalaHosting customer, you can get SPanel for free with your managed VPS account, and you can create as many accounts as you want and host as many websites as you want without paying additional licensing fees.

Although the company offers cPanel managed VPSs, because of the lack of licensing fees, SPanel virtual servers are much cheaper. It's certainly an incentive, especially for people on a tighter budget, but it won't work in the long run if SPanel doesn't deliver the promised usability.

So, does it?
SPanel - A Comprehensive VPS Management Platform :-
SPanel is divided into two sections – the Admin Interface and the User Interface.

Some may think that the division will make SPanel trickier to get used to, but the effect is quite the opposite.

The structure actually helps improve your project management, delegate tasks, and track progress. Let's see how it does that.
SPanel's Admin Interface
SPanel's Admin Interface is reserved for the server's owner. Through it, you can perform a wide range of tasks related to the configuration and operation of the VPS itself. Here are some of them:
Monitoring load and hardware resource usage.
Switching between web servers (SPanel servers can run Apache, Nginx, LiteSpeed, and OpenLiteSpeed).
Integrating WHMCS and other solutions.
Customizing SPanel's look.
Restarting services and rebooting the server.
The Admin Interface is also where you set up and manage the accounts for the individual projects on your virtual server.

The SPanel user accounts separate server management from project management tasks. In addition to keeping the interface clean, this also lets you have other people take care of the websites without giving them access to your server's core settings.

You can set limits to individual accounts regarding the storage space they can use and the number of email addresses, inodes, FTP accounts, and databases they can have. This guarantees that you won't have a single account consuming the server's resources and ruining the performance.
SPanel's User Interface :-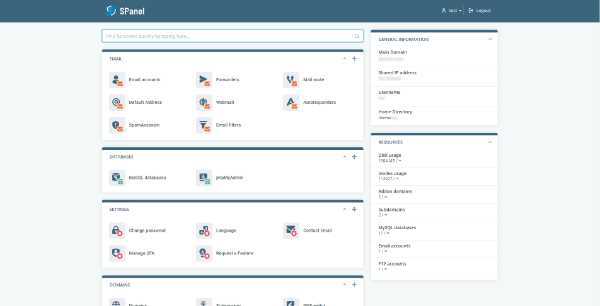 Using an SPanel user account's login credentials, you can access the User Interface – SPanel's suite of tools for managing websites and the services surrounding them.

The structure should be pretty familiar to anyone who has developed websites in the past. Every SPanel user account has a primary domain with a document root folder named "public_html".

You can set additional addon domains (if addon domains for the account are enabled through the Admin Interface) and create subdomains with their own document root directories.

With the domains set up, you can use SPanel's User Interface to, among other things,:
Set up email addresses, forwarders, autoresponders, and filters
Create and manage MySQL databases and users
Set up redirects and edit your domain's DNS zone
Manage files, folders, backups, and FTP accounts
Install website building applications
Change your site's PHP version and edit its php.ini file
Set up SSL certificates, cron jobs, and NodeJS applications
SPanel's User Interface is also home to SWordPress manager – a unique management solution created by ScalaHosting specifically for projects powered by WordPress.

With it, you can install WordPress in seconds, clone existing installations, create a staging environment, and change the admin password.

An auto-update feature ensures that new versions of WordPress and all the themes and plugins you've installed are applied as soon as they come out, and a unique functionality called Security Lock can lock the site's files, ensuring that no one can tamper with them.

You have a clean interface with plenty of tooltips and help boxes on every page. There's a search field, as well, so you won't waste any time looking for a particular functionality.

All things considered, SPanel doesn't appear to be missing any of the features of the established web hosting management solutions.

It's lightweight, easy to get used to, and it has the required functionality to help you start your project and manage it efficiently once it's up and running.
What Do You Get With ScalaHosting's Managed VPS Solutions?
ScalaHosting's managed virtual servers offer a pretty comprehensive hosting solution for big and small websites alike. Every single account comes with a free domain for the first year and some pretty hefty discounts if you opt for a longer billing cycle.

The renewal prices are higher, which, although frustrating, is common practice among web hosting providers. On the bright side, unlike other hosts, ScalaHosting decided not to bury them deep inside the fine print.

If you have an existing project, you can have ScalaHosting's technical experts transfer it for free. All you need to do is open a ticket and include the login details for your old server. Scala's specialists will migrate the files and databases without causing any downtime whatsoever.

As far as we can tell, the performance is excellent once your site's up and running, and ScalaHosting's use of KVM virtualization means you don't need to worry about them overselling their servers.

You can also use an SPanel VPS to start your own reseller business. The Admin Interface lets you create packages and assign quotas to new and existing accounts automatically. There are a few branding options, so you can build the business around your own identity.

Even if you need something that isn't on the list of supported technologies, you can always ask ScalaHosting whether they can set it up for you. If it is possible, you can be pretty sure they'll do it.
Conclusion :-
After you spend some time hosting your website on ScalaHosting's managed VPS solutions, you're left with the impression that the company isn't simply trying to maximize its profits. Instead, you get the feeling that they're really putting time and effort into their services.

Thanks to these efforts, they can offer more than just decent service. Their managed VPS servers provide an excellent blend of power, flexibility, and security and can safely be classified among the best on the market.