How To Choose Your Home Theater Speaker Configuration
Last Updated : Dec 9, 2021
IN - Gadgets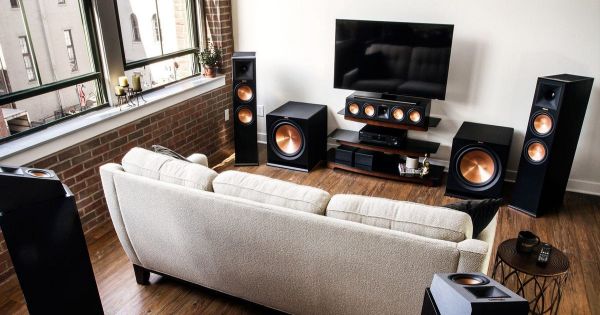 A home theater system requires more than two speakers. To benefit from the surround sound effects that make up the charm of a cinema installation, several speaker and subwoofer configurations are possible.

Paired with a home theater amplifier, here's how to position your speakers to go from "just watching a movie" to "having a real immersive cinema experience".
Classic 5.1 configuration with satellites and subwoofer
Very popular thanks to their compact size, satellite speakers can reproduce enveloping cinema sound in a medium or small room.

Paired with a subwoofer, the satellites are the ideal design solution without compromising performance. The subwoofer will be essential in this configuration, the satellites offering a limited bass input due to their format.

The front speakers should be installed on either side of the TV on floor stands, table stands, or wall mounted. The center speaker will usually be mounted on the wall or placed on the TV stand. Effects speakers can be placed closer to the listener at the back or to the sides.
Classic 5.1 hi-fi configuration with subwoofer
This configuration is the most common. A perfect balance between cinema and hi-fi use, it includes quality front speakers (column or shelf) which will allow a superior musical performance.

The rear speakers may be smaller and still sufficient to properly reproduce the surround effects of films. However, the center speaker should not be neglected. It must be of equivalent sound and of adequate format to achieve a good sound marriage with the front speakers.

It is through the central channel that the dialogues and the majority of the action pass. A subwoofer will also be installed to reproduce the powerful extreme bass striking.
Classic 5.0 hi-fi configuration without subwoofer
A little less common than the classic 5.1 configuration with subwoofer, this one can still be effective in a smaller room. Perfect for the movie lover who doesn't want to compromise on high-fidelity musical sound.
Classic 5.1 configuration with subwoofer and dipole speakers
The dipole speakers give a better fluidity in the rear effects. This configuration is characterized by its compatibility with the THX standard. For optimal dispersion, the speakers should be on the side walls, just behind the listener's field of vision, at ear height.

Dipole speakers can be installed on the back wall of the room as long as they are well spaced from each other with walls fitted with absorbent materials (acoustic panels, curtains) to maintain appreciable control of the sound.
5.1 configuration with five identical speakers and subwoofer
Popular with professionals, this configuration replicates a studio installation where films are mixed on five identical speakers so as to have linear sound reproduction on all channels.

The addition of a subwoofer is required for the reproduction of extreme bass. However, using two subwoofers for stereo use is common.

This type of installation with five identical speakers, often high-end, is also often adopted by enthusiasts of music produced in 5.1 and concert Blu-Ray.

The reproduction will therefore be faithful to the vision of the creators. If you don't want your home theater experience to be ruined by messy wires buy the best home theater system in India with wireless speakers
Configuration 7.1
The 7.1 configuration is the closest you can get to a standard commercial movie theater. Requiring a room large enough to be able to fully appreciate it, this setup is made up of side and rear surround effects speakers.

Traditional speakers or dipoles (for more fluidity between the effects channels) can be used. A 7.1 installation also allows you to comply with the criteria of the Dolby Digital and DTS HD formats. A subwoofer is required for extreme bass.
7.2 THX Ultra 2 setup
Made up of 7 identical wall speakers (which must meet the criteria of the THX standard) and two subwoofers, this configuration makes it possible to maintain a linearity of sound in all the speakers, as in a cinema mixing studio.

Usually installed in a dedicated home theater room, the side and rear effects speakers will need to be placed in specific locations for an exact replication of the creators' vision.
Using built-in speakers
It is common to use in-wall speakers in 5.1, 7.1, or 7.2 cinema use. For home theaters where you want to hide the speakers, it is still possible to have a sound quality worthy of the best installations.

Manufacturers of in-wall speakers then offer high-end models that have nothing to envy to traditional speakers. The front and center channels should be in-wall speakers placed at ear height, but it is entirely appropriate to use in-ceiling models for the effects speakers surround.

There are also tilted models for a more directed sound projection. The built-in speaker grilles can be painted for better integration into the room.

It is also possible to hide the built-in speakers in decorative walls with sound transparency. There are also built-in subwoofers. The amplifiers of these subwoofers will then be separate and must be installed separately from the box in which the subwoofer is located.
Dolby Atmos
Dolby Atmos technology breaks the virtual barrier in terms of surround sound. It adds a new vertical dimension, allowing sounds to be positioned at specific locations in the room.

The space occupied by sounds and various effects are no longer constrained to channels but can now be directed anywhere in the room using the Atmos algorithm developed by Dolby. We are talking about a complete sound immersion of a captivating realism.

To reproduce Dolby Atmos certified soundtracks, you will need to install one or two pairs of dedicated in-ceiling speakers. Placed at strategic locations, it will complement a 5 or 7 speaker system (with one or two subwoofers).

The nomenclature for Dolby Atmos configurations places the number of ceiling speakers at the end. For example, a cinema installation consisting of five speakers, a subwoofer and two pairs of in-ceiling speakers would read as follows: 5.1.4.