How To Stop Auto Renewal Of Amazon Prime India
Last Updated : Feb 12, 2022
IN - Amazon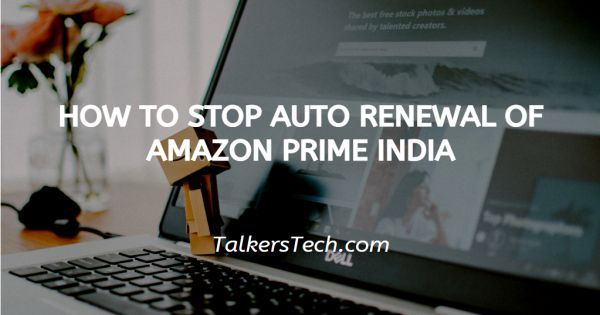 In this article we will show you how to stop auto renewal of amazon prime India, on amazon prime, you get a subscription plan including various features. It includes prime video, prime music and added perks related to amazon delivery.
When the period of subscription is over, you can renew it for another period. There are two methods of renewal, one is auto renewal and the other is manual renewal.

You can always turn off the auto renewal process on amazon prime India. It can be done on both mobile and desktop as well as on iPhone. The steps to turn off auto renewal on mobile and desktop are as follow:
Step By Step Guide On How To Stop Auto Renewal Of Amazon Prime India :-
Open the amazon app in your smartphone
Sign in to your amazon account through the app.

Then, tap on the human shaped profile icon on the bottom corner of the mobile app. It will lead you to a page showing details like "your order," your account", etc.

Tap on your account on the page that opens. It will lead you to a page showing your orders, account settings, Amazon pay, etc.

To manage prime membership auto renewal, tap on manage prime membership shown under the account settings column.
Tap on do not continue option next that is shown on the next page.
And then at last exit the app.
That's how you can turn off auto renewal of amazon prime on your mobile application.
Steps To Stop Auto Renewal Of Amazon Prime On Desktop :-
Open your preferred browser on your desktop.
Go to the amazon website on your browser.
Click on the down arrow to accounts on the top right corner bar.
Click on your prime membership on the page site.
Click on the membership and benefits option on the next page that opens up.
Next, click on the do not continue option on the web page.
Conclusion :-
I hope this article on how to stop auto renewal of amazon prime India helps you, this is how you can stop the auto renewal of amazon prime India.

You just need to follow all the steps mentioned in the sections of mobile application as well as desktop.

It is an easy process with fewer steps. Even after you stop auto renewal, you can still get your amazon prime account renewed whenever you want.

Based on your need to have an amazon subscription along with your financial condition, you can make the decision of renewing your membership.

But with auto renewal, you don't get more options than you auto renew every month. So, follow all the steps and then you can stop auto renewal of amazon prime India.