How To Post Multiple Pictures On Instagram Without Cropping
🕐 1 Jul 23
Instagram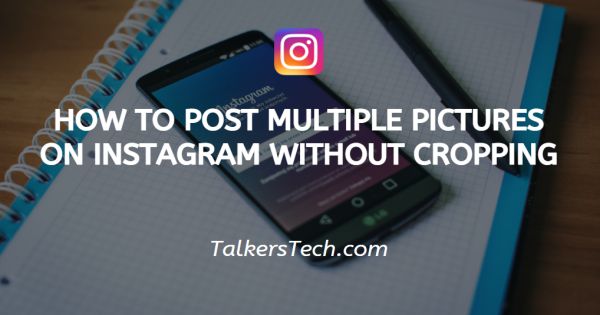 In this article we will show you how to post multiple pictures on Instagram without cropping and we will be your mentor in solving your issues related to Instagram. So we know that it might get a difficult task when it comes to knowing to post multiple pictures without cropping on Instagram.
So, this article will guide you through the process in detail, and we will try to solve your query in an uncomplicated way.

We are here to help you out. To solve your problem, we have brought you an article regarding the same. Kindly read the article completely to get the entire procedure.

So, the preferable dimension/ size of image for an Instagram post is a square image. So, if you don't want to crop the image, you can always use the methods provided below:
Step By Step Guide On How To Post Multiple Pictures On Instagram Without Cropping :-
Using Instagram's 'Fit To Screen' Feature
So, in this method of posting a picture, you can't be sure that Instagram will post your entire picture without even cropping it. You will have to check whether Instagram allows your picture with the original size or not. To do so, check out two tips provided below

1. Pinch the Photo

You can pinch the photo and try to make it small. Try to zoom out the picture. And when you release your fingers, Instagram will provide the maximum size it can allow to your picture.
2. Using 'Fit to Screen' Icon.

There is the two cornered square icon or Fit to Screen icon present on the bottom left corner of the picture. Use that to check the maximum size of your picture which can be posted.
Using External Applications
Here, you have to use external applications to make your picture a squared picture. It doesn't crop your picture but overlays your picture on a squared plain image. It is the most convenient method when it comes to posting a picture on Instagram without cropping it.

You can find thousands of applications on play store or app store for this purpose. We would recommend trying Picsart, as we find it simple to use and is actually an excellent photo editing mobile application.
Now you need to do this for all the pictures you want to post on Instagram. Repeat the same procedure with other images.
Conclusion :-
Now keeping all the tips from this article, we wish you will easily upload the entire picture without even cropping it. We hope that you got your answer to the question How to make pictures fit on Instagram without cropping.

Also, we would love to have you again on this website. If you ever get any trouble regarding Instagram, you can always count on us. And lastly, if you found this article helpful and informative, share this with your friends and family.

It might come handy to them too. So, on this point, we'll take leave. It was great having you here. I hope this article on how to post multiple pictures on Instagram without cropping helps you.