How To Pay Airtel Postpaid Bill
Last Updated : Jun 9, 2022
IN - Airtel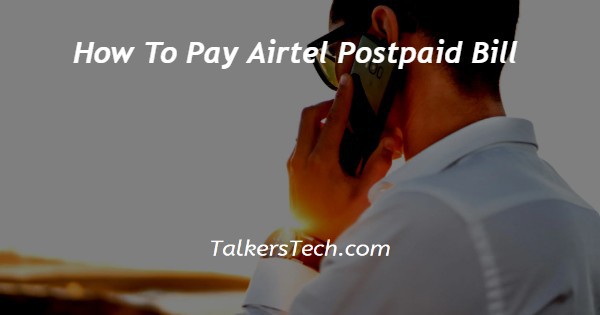 In this article we will show you how to pay airtel postpaid bill, postpaid users can now easily pay their bill by using the Airtel thanks application or visiting the nearest Airtel store outlet.
The online application makes it easier for the users to easily make the payment while sitting at their home.
This eliminates the requirement of visiting the Airtel store and users can also focus on their other tasks. The option of paying the bill can also be done through the Airtel official website.
In case you are looking for a solution on how to pay Airtel postpaid bill this is the right article for you just follow the steps given below in order to pay Airtel postpaid bill
Step By Step Guide How To Pay Airtel Postpaid Bill :-
By Using Airtel Thanks Application
Open the play store or ios on your device and download the Airtel thanks application.
It will take a few moments to successfully install this application on your device.
After successful installation you need to enter your mobile number in the application to activate your membership.
After this you will see various services offered by this application.
On the top of the dashboard you will see the data left along with the due date and total bill for your postpaid Airtel mobile number.
Below the dashboard box you will see the option of paying the postpaid bill.
Click this option to proceed further.
It also gives you a warning about the days left for the postpaid amount in order to avoid late fees.
Below this warning you will also see the option of pay now.
You can click any of the options for the payment of your 80 postpaid bill on Airtel thanks application.
After clicking the pay now option it will redirect you to select the payment option.
At the top of the screen it will display the amount to be paid.
Below this you will see the option for Airtel payment and my card along with wallet and UPI.
Airtel thanks application also provides the option of paying your Airtel postpaid bill using net banking.
For net banking you need to select the specific bank for paying your postpaid bill amount.
Now you need to select the payment method to which you want to pay for Airtel postpaid bill amount.
After entering all the details it will take a few moments for the processing of payment of the bill.
Once all the details are entered and your payment is made it will show you a pop up message that the amount is successfully paid.
Conclusion :-
I hope this tutorial on how to pay airtel postpaid bill helps you and the steps and method mentioned above are easy to follow and implement.
In this article we covered an essential guide on how you can pay an Airtel postpaid bill using Airtel thanks application.