How To Open Excel In Google Sheets
🕐 21 Feb 23
Microsoft Excel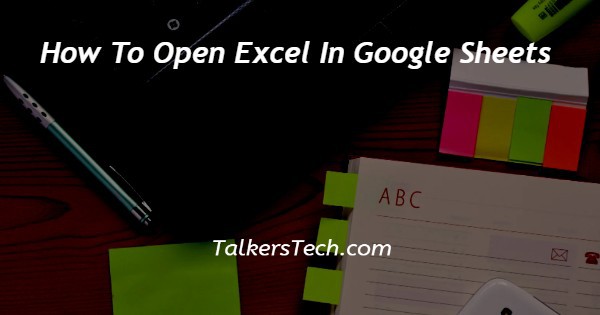 In this article we will show you the solution of how to open excel in google sheets, MS Excel is one of the most widely used applications in today's technologically advanced age.
With MS Excel, we perform a variety of tasks be it data entry, data and statistical analysis, or even mathematical calculations.
It contains a large number of features, with the help of which we can make data tables, graphs and different kinds of charts as well.
However, a lot of times it is possible that a person has received an Excel file but they do not have MS Excel downloaded in to their device, or they don't use that application altogether.
The contemporary app for MS Excel is Google Sheets. It was developed by Google and it is a part of the other services available under the Google Docs Editors suite.
Normally it is comes in-built in Android and Google devices but if not, it can also be easily downloaded.
In this article, we shall learn about how we can open MS Excel files in Google Sheets.
Step By Step Guide On How To Open Excel In Google Sheets :-
Before you can open an Excel file in Google Sheets, you will first have to upload your file to Google Drive.
In order to learn how you can open Excel files in Google Sheets, follow the steps that are given below:
For the very first step, open Google Drive.
Then, click on the "New" option.
Next, click on the "File Upload" option to upload your file on Google Drive.
Once you click on that option, a new window will appear that will be containing all the files.
Select the MS Excel file you want to upload on Google Drive.
After you have selected your file, click on "Open".
Once that file is uploaded, you will see a notification at the bottom corner of your screen.
Now, navigate towards the "My Drive" option below the "New" option on the left side of your screen.
Click on the "My Drive" option.
It will then show all the files that you uploaded to your Google Drive.
Find the MS Excel file you uploaded to Drive.
Right click on that file. You will see a list of options appearing next to it.
Click on the "open with" option.
Select the option of "Google Sheets" from the next list.
Your file will then open in Google Sheets.
Conclusion :-
With the help of these few steps, you easily open Excel files in Google Sheets.
If you want to download this file and save it into your device, Google Sheets also has options for that.
You can also convert your file into a PDF copy if you wish to send the Excel file to anyone else.
Although Google Sheets may not have all the same features as Excel, it is still a good replacement for MS Excel.
I hope this article on how to open excel in google sheets helps you and the steps and method mentioned above are easy to follow and implement.