How To Make Pamphlet On Google Docs
🕐 1 Jul 23
Google Docs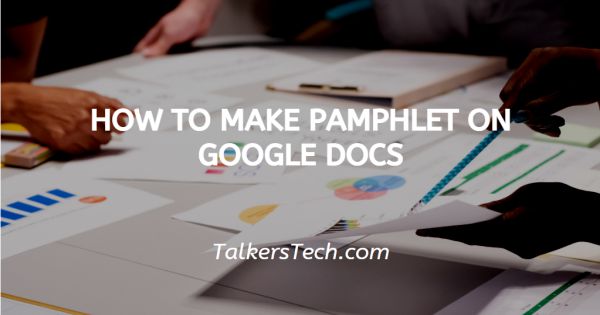 In this article we will show you how to make pamphlet on google docs, a pamphlet provides information regarding product or service. It includes different images and text that summarize the product.
It is a very useful tool for advertisement of your product and helps to gain the attention of a larger audience.

Pamphlets Are very common as it helps to let your customer know more about your product or service. A pamphlet is an individual sheet of paper or it can also come as a stapled book placed at the center.
Step By Step Guide On How To Make Pamphlet On Google Docs :-
This tutorial will help you in the pamphlet making process easily. Google Docs already provide you a free design template for pamphlet making.
You first need to login into your Google account after entering your email address along with your password.
Open Google docs on your device.
In case you want to use the pre-design templates provided by Google Docs you need to look for the template gallery. Once you open the page of Google Docs, you will see the option of blank, brochure, resume and letter. on the top of the screen click the option of template gallery.

A template gallery page will appear on your screen. Here you can see various free design templates for resume, letters, personal, work, sales, legal, Human resources, freelancer Engagement, Education essay report and lesson plan.
Among these options look for the work section.

There are only two pre design templates provided by Google Docs for pamphlet making. you can choose any of the pamphlets from the option of modern writer and geometric.
Click the template of your choice and a new editor page will appear on your screen.
Now you can edit this pamphlet according to your requirements. You can change the text size, text colour, text font and images.

In case you want to edit the text in the pamphlet you need to move the cursor of your mouse and tap the content to delete or edit it.
In case you want to replace the image that already exists in the free design template you can simply tap the image and click the option of replace image from the toolbar options provided by the editor.
Conclusion :-
I hope this article on how to make pamphlet on google docs helps you, in this article we covered an essential guide on creating innovative and unique pamphlets using Google Docs.

The steps mentioned above are quite detailed and easy-to-follow. I hope this article solves your query and you can easily create new Pamphlets as per your needs.