How To Install Zee5 On LG Smart TV
🕐 1 Jan 23
Zee5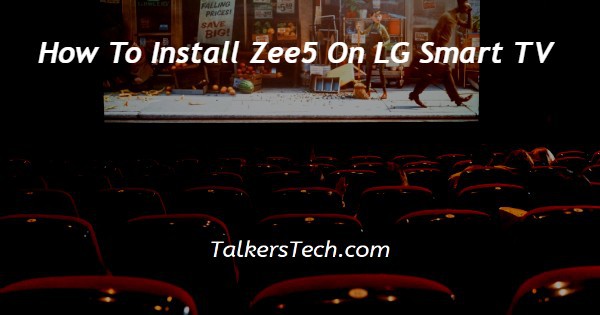 In this article we will show you how to install zee5 on LG smart TV, Zee5 is available for the LG smart TV models that are launched starting from the year 2017 and beyond.
In order to check your model, you need to refer to your TV model from the label and check whether the detail applies to your LG smart TV.
Zee5 is one of the most popular Indian entertainment streaming platforms which provide a huge range of content, such as movies, web series, news channel, music and others.
You can easily enjoy your favorite content on the big screen by installing Zee5 on LG smart TV.
In case you are looking for a solution on how to install Z5 on LG smart TV, this is the right article for you just follow the steps given below in order to install zee5 on LG smart TV.
Step By Step Guide On How To Install Zee5 On LG Smart TV :-
Switch on your LG smart TV and make sure that your LG smart TV is connected to a stable internet connection.
Now you need to click the home button from your LG smart TV remote.
After clicking the home option, you will see a list of menu options on the bottom of the screen.
You need to click to the right button from the remote in order to see all the options on the screen.
Click the LG content Store By clicking the center button of the remote.
In the LG content store, you will see a variety of stuff, such as movies, TV shows, and popular applications, and recently added applications.
Click the application Option from the LG smart TV remote.
It will display a bunch of applications that you can easily install on LG smart tvs.
Search for the zee5 application by typing it in the search bar placed at the top right corner of the screen.
After finding the Zee5 application you will see all its details such as version, update, rating, size and others.
You need to click the option to install the place below the zee5 symbol.
The application will start to install shortly on your LG smart TV.
Once the application is successfully installed you need to open this application by clicking the launch bar or press the movie key on your remote.
On the next step, it will ask you to login to your account by entering your account credentials, such as your password, email address or mobile number.
You can also go to the setting option and tap on the login.
Conclusion :-
I hope this article on how to install zee5 on lg smart TV helps you and the steps and method mentioned above are easy to follow and implement.
In this article we cover an essential guide on how you can install zee5 on LG smart TVs.