How To Import Contacts From Outlook To Gmail
Last Updated : Mar 21, 2022
IN - Microsoft Outlook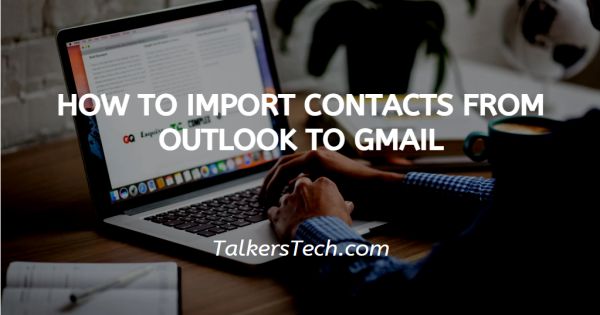 In this article we will show you how to import contacts from outlook to Gmail. before beginning the import process, prepare your Outlook account by copying any files and your contacts you would like to keep from your deleted items and spam folders in your inbox.
You can't have all of the messages you want to keep in those folders after all, these are files in which you usually only have e-mails that you want to get rid of and that you don't need, but just in case.

However, to migrate your Outlook accounts contacts to Gmail, just follow the steps given below properly.
Step By Step Guide On How To Import Contacts From Outlook To Gmail :-
At first, open your Gmail account on your desktop.
Then, in your Gmail account page, click on the gear icon i.e. Settings option button in the upper right corner of the page.

Then a drop down will open, just click on See All Settings option.

Then the settings page will appear on your screen.
Click on the Accounts and Import tab option among the various list of option from the top of the settings page.
Then, scroll down the page to the Import Mails and Contacts section.
And then choose the Import mail and contacts option from it.

Then, a window will appear on your screen asking you that What account do you want to import from?

Enter your Outlook.com email id in that particular section
And then click Continue.
After clicking continue another window will open on your screen with information.
Just select the Continue button.
Then, In the next window, you will need to grant permissions for Gmail to access your Outlook.com account.
Just, go through the terms and click Yes to continue.
And then close the Authentication successful window.
In the import options, choose the particular options you want import.
Suppose you want to import contacts, so just select the Import Contacts option from ths list.
At last click on the Start import option.
And finally select OK.
The import process will continue working without any further help from you. You can go back to work in your Gmail, or can even log out of your Gmail account; the process will continue on its own.

The import process can take sometime, depending on how many contacts you are importing.
Conclusion :-
I hope this article on how to import contacts from outlook to Gmail helps you and the steps mentioned above will help you to import contacts from your Outlook account to Gmail just by following the above guidelines process properly.