How To Find My Playlist On Spotify
🕐 1 Jan 23
Spotify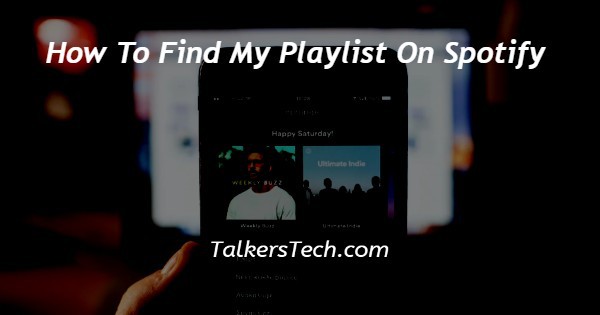 In this article we will show you how to find my playlist on Spotify, searching in the playlist is exactly the same as searching for a specific song artist or album on Spotify.
In the search bar you can easily enter the playlist category and select from the playlist available that matches your search query.
Users can easily search their playlist using the application as well as the desktop site. If you are a music lover you will definitely be familiar with spotify.
It consists of an intelligent algorithm that utilizes the recent tracks that are played by you along with similar recommendations.
Spotify lets its users make their own playlist adding their favorite music and also use the playlist of other users.
Sometimes it can be difficult to get the track of all the playlist containing hundreds of songs.
The best part is that you can easily search your playlist on Spotify whether you are listening to it on your desktop or mobile device.
In case you're looking for a solution on how to find your playlist on Spotify this is the write article for you.
Step By Step Guide On How To Find My Playlist On Spotify :-
Go to your web browser and search for the official website of Spotify on your desktop.
Click the login option placed at the top right corner of the screen.
Now you need to enter your Spotify account credentials at your password and email address to proceed further.
Or you can also login to spot Spotify using Facebook, Google and Apple ID.
After successfully login to your account you will see the homepage of your Spotify account on the screen.
The left side of the Spotify homepage will show a menu which will display several options named Home, Search, your library, create playlist and liked songs.
Click the option your library from the left side menu.
Once you click this option you will see all the playlist created by you under your Spotify account.
It will display all the playlist along with podcast artists and albums.
You can easily scroll down to look for a specific playlist that you want to play on Spotify.
The playlist section also display the number of songs that you have liked on your Spotify account.
From all of your created playlist you can pick a specific playlist to listen on Spotify as per your choice.
Conclusion :-
I hope this article on how to find my playlist on Spotify helps you and In this article we covered an essential guide on how you can find your playlist on Spotify on PC.
The steps mentioned above are quite detailed and easy to follow and implement and you will not face any difficulty in looking for your playlist on Spotify.