How To Find All Gmail Accounts In My Name
Last Updated : Nov 24, 2021
IN - Gmail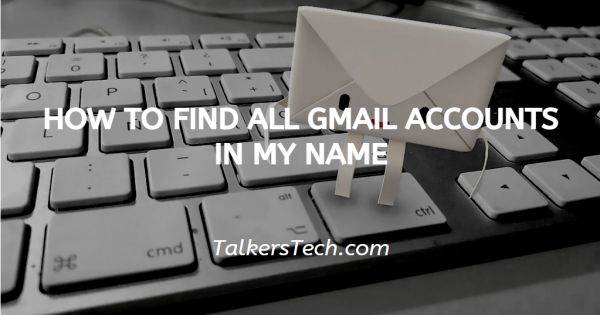 In this article we will show you how to find all Gmail accounts in my name, most all-time Gmail users have over one account because of the ability to sign into various services offered by Google.
You can create various accounts using your Gmail ID but it is important to keep tabs on all of your accounts. The accounts are created in order to store your data in an organized manner.

As the data stored in this account is sensitive, you need to make sure that it does not fall into the wrong hands.
Step By Step Guide On How To Find All Gmail Accounts In My Name :-
It is very essential to identify all the accounts that are linked to your email id as it is important to secure the personal information stored in the account.

You should spend a reasonable amount of time in order to locate all the accounts that are linked to your email so that you don't have to waste any money for the subscription that you opted for earlier for any of the programs or services.

Follow the steps given below in which you can easily locate all the accounts that are linked to your email account.
Open your Google account on your desktop.
At the left corner of the screen, you will see various options under Google account named as home, personal information, data, and personalization, security, People and sharing, payment and subscription, about.
Among all these options, click security.

The security page will show you settings and recommendations regarding Recent secure activity, your devices, third-party apps with account access, signing into other sites.
Look for the optional third-party apps with account access. Gmail informs you have given this site and applications access to some of your Google account data including information that can be sensitive. You can easily remove Access for those no longer in use.
Below this column click the option manage third party access.
A list of all the third party App will appear on your screen.

From here you can easily manage the setting for each of the applications that is connected to your Google account. You can also see some other important information about what the application has access to.
You can also revoke Access to any of the accounts provided in the list by simply clicking on the app or website name.
Just beside the application, there is an option to remove access.
After clicking the application you will see the details of the accessing platform homepage and access given on.
Conclusion :-
I hope this article on how to find all Gmail accounts in my name helps you in this article, we covered an essential guide. The steps mentioned above are quite detailed and easy-to-follow.