How To Download Subtitles In MX Player
Last Updated : Jul 25, 2022
IN - MX Player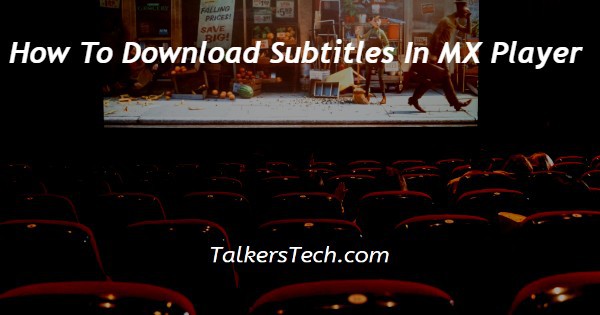 In this article we will show you how to download subtitles in mx player, Mx player is video player where you can watch all kinds of movies with good quality of sound. By using this video player you can download various types of movies which might be in any language. Usually it supports mostly to all the video format.
It is the one of the most popular streaming players available out there. It is the first video player on you android phone that supports multi-core decoding and its performance was maximum faster than the single-core devices.
Step By Step Guide On How To Download Subtitles In MX Player :-
At first I would like to recommend that you update your mx player before staring the rest of the following steps.
So by downloading the latest version of the mx player from our website.
After doing this you can download subtitle in mx player and then you need to have a subtitle file on your phone storage. If you have the file on your computer then you can transfer it into the mobile using any file.
People can download subtitles in mx player. In this article we will provide you the whole process that how you can download subtitles.
In order to download subtitles in mx player, you need to following steps as mentioned.
Open the MX Player at first.
Now play the movie for which you want to download.
Now, tap on the three horizontal lines in the top left corner.
Next, you need to navigate to the "Subtitle" menu.
You will see other sub menus after clicking on Subtitle.
Tap on the Online Subtitles.
Next, search the subtitles for your movie online.
You can also enter your search text if you are unable to find subtitles for a movie.
After it, you need to Download the Subtitle from your favorite area or place.
Now select then you are ready to go.
At last MX Player will automatically load the subtitle for you.
Conclusion :-
I hope now it becomes easy for you to download subtitle for movies in mx player.
Mx player is a video player that gives you a good quality with HD feature, you can watch your favorite movie on it without any disturbance and also can get the other features like good sound quality and so on.
I hope this article on how to download subtitles in mx player helps you and the steps and method mentioned above are easy to follow and implement.