How To Create A PowerPoint Template With Company Logo
🕐 9 Apr 23
Microsoft PowerPoint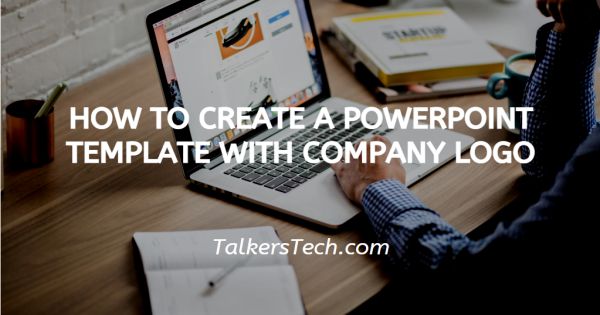 In this article we will show you how to create a PowerPoint template with company logo, PowerPoint is a tool used by millions of people all across the globe. It is used by students, teachers, professionals, corporate employees, etc.
Adding a graphic as a watermark behind the text of your slides is a great way to display a logo or other meaningful image.

If you have been looking for ways as to how you can create PowerPoint template with company logo, you have come to the right place.

Below is the step-by-step procedure that explains how you can achieve it in just a few quick and easy steps. Follow the steps as explained below.
Step By Step Guide On How To Create A PowerPoint Template With Company Logo :-
You can access the MS PowerPoint using the tool from the MS Office on your laptop or PC. You can also download its app from the Google Playstore and use the tool on your smartphone.
You can add a template either to an already existing presentation or a new one.
PowerPoint allows you to adjust the picture's transparency once you put it on the slide.
In order to add a logo to all the slides, select 'View' tab located at the top panel on your ribbon.
Next, tap on the 'Slide Master' icon. Once you do this, you will need to scroll to the top of the thumbnail pane on the left, and select the first item, the 'Slide master' icon.

To proceed further, select the 'Insert' tab. From the various options available, tap on the 'Shapes' option. From the grid that open on the screen, pick a shape and then tap and drag to draw the text box on the slide master.
Here it is important to make sure that the shape is the same size as you company logo. For example, use a circular shape if the company logo is also circular.

Next, you will need to right-click on the shape. A list will open, from here, click on the 'Format Shape' option to open the menu.

Below the bucket icon, choose the 'Fill' option. To proceed ahead, click on the 'Picture fill'. Select the 'File' icon and insert your logo image from the device. Here, you can also edit or adjust the darkness of the logo using the Transparency slider.
Now in order to remove the border around the logo, select the logo, then right-click on it. Select 'Outline' and choose 'No Outline'.
Finally, exit Slide Master and all the slides will have the logo, except title pages on your presentation.
Conclusion :-
I hope this article on how to create a PowerPoint template with company logo helps you and you found the steps and methods provided above useful and worth your time and effort.