How To Claim Warranty On Flipkart For Earphones
Last Updated : Nov 12, 2021
IN - Flipkart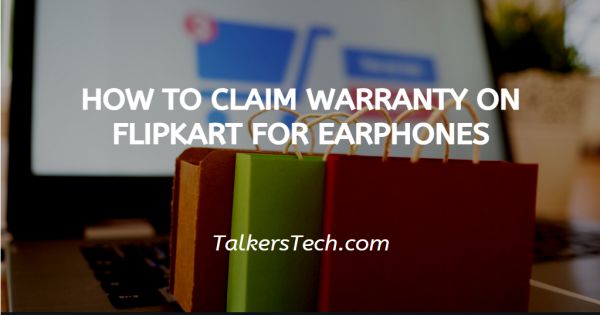 In this article we will show you how to claim warranty on Flipkart for earphones, earphones are the basic necessity of our daily life. It's very hard to spend a day without earphones. No matter what you are doing on your phone you are going to need an earphone at some point of time.
Earphones evolved with time and they got so better, now we have wireless earphones, you can just plug them in your ears and continue your work, it does not even feel like it's there.

You can buy earphones from various brands. There are many types of earphones available in the market like wired earphones, neck bands and ear buds.

Flipkart is India's largest online electronics store. It is loved by crores of Indians because Flipkart is very liable and trusted brand. Flipkart has very impressive earphones available. you can get earphones at very generous price.

Flipkart also provides you warranty with the earphones, which you can claim at any store of the particular brand in India. Warranty period is different for each product, some earphones have 6 months of warranty and some have even 1 year of warranty.

You can buy extended warranty for your earphones if you want to extend the warranty period. Claiming warranty for your earphones is very easy on Flipkart and in this article we will show you how.
Step By Step Guide On How To Claim Warranty On Flipkart For Earphones :-
Nowadays you do not really need to claim warranty of the earphones. you can just simply visit the nearest store of the respective earphone brand and ask for the repair.

Remember Warranty is provided by the manufacturer not by Flipkart, It only acts as the mediator between the customer and the manufacturer.

You will need to present the bill in order to prove the date and other details of the purchase. You can also courier the earphones if there is no store nearby. You can contact the store or Flipkart for the details about it.

In case you are having difficulty on claiming the warranty for the product directly from the store then you can follow the given steps in order to claim the warranty:-
Open the Flipkart app on your device. You can download it from Playstore or Appstore.
Now open the options menu by clicking on the three parallel lines icon on the top left.

Look to find Help center and tap.

Now select the order whose warranty you wish to claim. After opening the next page you will find a Need Help? Option on the page. Tap on it and you will be taken to the chat and support page where you will be assisted by customer executive. You can get all the details about the warranty through the executive

You can also Call +91 80 46609211 for all warranty claim related issues.
Conclusion :-
Claiming warranty for your earphones is really easy, you just need the proper billing details, you can also contact Flipkart if you have lost your bill, and they will instantly provide you with the same. I hope this article on how to claim warranty on Flipkart for earphones helps you.