How To Buy Mobile In EMI Without Credit Card In Flipkart
Last Updated : Nov 12, 2021
IN - Flipkart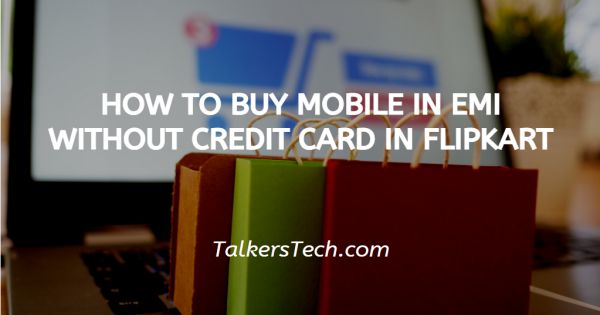 In this article we will show you how to buy mobile in EMI without credit card in Flipkart, mobile phones are the basic need of everyone nowadays, In this modern you can survive without food but not without a mobile phone.
It helps you to connect with people, click pictures, watch videos, transfer money, the list is very long, there are very few things that you cannot do with a mobile phone.

Mobile phones are getting expensive day by day so if you are short on money and still want the mobile phone of your choice then you can buy it through EMI. Even if you are having enough money it is still better to buy things in EMI as it helps you to avoid the back-breaking taxes that are imposed on Bulk transactions.

To buy something on EMI you need to have a credit card, but in India most of us don't own a credit card, Flipkart has solved this problem.

You can now buy anything on EMI without having a credit card. It offers impressive EMI options. One such option is Bajaj Finserv EMI card, you can use it to buy anything on No cost EMI. You monthly EMIs will be deducted from your debit card.
Step By Step Guide On How To Buy Mobile In EMI Without Credit Card In Flipkart :-
First you will need to create a Bajaj Finserv Emi card, let's see how.
Open your web browser and search for Bajaj Finserv on the search bar. Now click on the first result.
On the web page click on the Apply now button.

Now you have to enter your PAN card, AADHAAR card for completing the KYC. And then enter your Account details such as account number and IFSC code. Your EMI card will be activated once pay the registration fee.

After creating the Bajaj Finserv EMI card, Go to the Flipkart app and tap on the search on bar. Now search for the Mobile phone you want to buy. And click on its name in the search result. Now check the EMI plans by clicking on View plans.

If the EMI plan suits you then proceed to the next step by clicking on Buy Now. Enter your address and contact details then proceed to the payment page and select the EMI option

Now select the Bajaj Finserv option and enter your card details to confirm the order. Your order will be successfully placed once you enter the OTP sent to your registered mobile number. The EMI will be deducted from your registered debit from the next month of the order date.
Note- You can also buy phone in EMI directly through your debit card but that option is very rarely available and only in selected Smartphone brands.
Conclusion :-
You can easily buy a mobile from your Bajaj finserv EMI card if you do not have a credit card. I hope this article on how to buy mobile in EMI without credit card in Flipkart helps you.