How To Add Songs To Spotify Mobile
Last Updated : May 9, 2022
IN - Spotify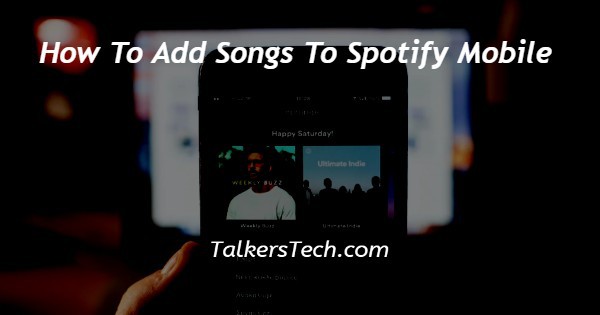 In this article we will show you how to add songs to Spotify mobile, who doesn't want to listen to their favorite music, at the time and place of their liking.
Whether it be a long boring ride in the bus, or a workout session, music makes everything better.
Accessing music has become a lot easier with the advent of online music streaming apps like Spotify, Apple music, etc.
Spotify is one of the most popular and widely used app to listen to music, your favorite podcasts, stories, etc.
It has a wide collection organized in separate genres that bring to you the music that you like.
It has an extremely easy and user-friendly interface that enhances the overall user experience for all.
If you are someone who has been trying to navigate the app and find out how to add songs on your Spotify mobile app, you have come to the right place.
In this article, we will see how you can add songs to the mobile app in just a few quick and easy steps.
Step By Step Guide On How To Add Songs To Spotify Mobile :-
To begin, make sure you have a registered account on the platform and have its app downloaded in your phone.
Open your App tray and click on the Spotify app icon.
This will bring you to the main homepage of the app. Here, you will be able to see all the genres, mixups, etc.
In order to add a song to your account, click on the 'Search' icon located at the bottom panel of the page.
This will display a search tab, enter the name of the song you want to listen to.
As soon as you do this, you will be able to see all the search results before you.
Click on the song that you wish to add and it will begin to play.
Here on the song title page, you will be able to see a 'Heart' icon. Click on it.
You will see a notification informing you that the song has been added to the 'Liked songs' list.
This is the folder where all the liked songs are saved and can be accessed even offline, if downloaded by a premium membership holder.
Conclusion :-
In this article, we showed you how to add songs to your Liked songs list on the Spotify mobile app within a few minutes.
You can now browse through the vast collection of songs, remixes, etc. that the platform offers and create your personal playlist.
I hope this article on how to add songs to Spotify mobile helps you and the steps and method mentioned above are easy to follow and implement.