How To Add Same Song To Multiple Instagram Stories
Last Updated : Dec 27, 2021
IN - Instagram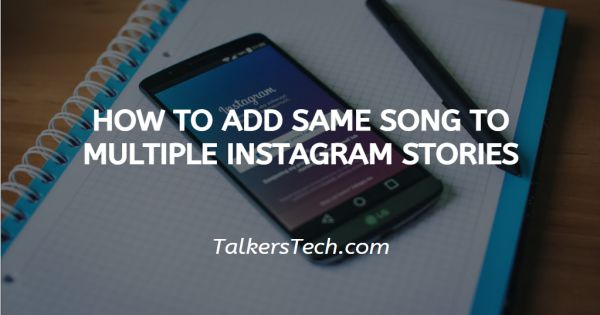 In this article we will show you how to add same song to multiple Instagram stories, Instagram is one of the most popular social media apps. Recently, it has added the feature to add music to your stories and reels.
This adds an extra funk to your content and makes it more engaging and entertaining.

In cases where there are multiple stories to which you wish to add the same song, there is a method and we will see how in this article.

The procedure is simple and quick. If you are unfamiliar with it, you have come to the right place. Let us see how this can be done in just a few quick steps, let us get started.
Step By Step Guide On How To Add Same Song To Multiple Instagram Stories :-
Open your Instagram account via the mobile phone app or using your personal details on your laptop or PC.

As soon as you do this, you will be taken to the homepage of your account. Here, you will be able to view the recent updates and posts of the pages you follow.
There are two ways to add the same song to multiple stories.
The first method is by using the music sticker.
First, swipe left on the homepage. This will open the camera page. Now you can either click a fresh photo or video or choose one from your gallery or click on the 'Add' icon at the top right corner.

Now at the top of the page, you will see several options to choose from like hashtags, locations, GIFs, etc. From here, add the 'Music' Sticker to Your Instagram Story.

From the list of music that opens, choose the music of your choice.

You can either enter the name of the song you want to use into the search bar or browse by mood, genre, or what's trending.
Simply press it and click on 'Done'.
Next, place your sticker where you wish to on your Stories.
Once you are done, press the "Your Story" button located at the bottom-left of the screen.

The second way to do the same is by using apps like Shazam, Soundcloud, Apple Music, etc.
In this method, music can be added from the app itself by choosing the 'Share' option>then choose the 'Instagram stories' option.
Conclusion :-
This is how you can add a song to multiple stories on Instagram. This will give an extra edge to your content. This elevates your content.

I hope this article on how to add same song to multiple Instagram stories helps you and this information helps you take your Insta game to new levels.