Copy And Paste Fonts For Instagram
🕐 1 Jul 23
Instagram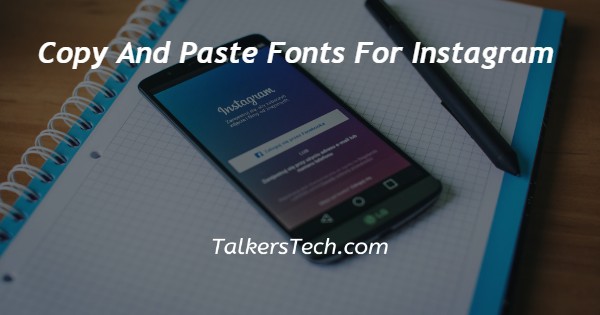 In this article we will show you the solution of copy and paste fonts for Instagram, there are many third party website that help you to select, preview, copy and paste the fancy font that you can use on your Instagram for your Bio, caption, Reels, igtv, stories and other type of Instagram content for your account.
You can easily generate Instagram font online without requiring any installation of third party application.
In this article we will discuss how you can copy and paste fonts for Instagram on Google Chrome on your Android device just follow the steps given below in order to copy and paste fonts for Instagram
Step By Step Guide On Copy And Paste Fonts For Instagram :-
Search for Instagram font generator tool on Google Chrome.
You can pick any website to to the fancy fonts for Instagram that you can copy and paste.
In this article we are selecting the website called lingojam.
You need to enter the text for which you want to copy and paste the font on Instagram.
You can also put your caption or Instagram bio for different fancy font.
Now simply copy the font of your choice by tapping on the screen till you see the option of copy.
Launch Google Chrome on your Android device.
Enter the official Instagram link in the address bar.
The official link where you can quickly login to your Instagram in Google is www.instagram.com
Tap the three dots placed at the top left corner of the screen and a detailed menu Will display at the left side panel of the screen.
These options include Sign up, login, download app, about, directories.
Click the option login and it will automatically redirect you to the login page.
Now it will provide you two methods for logging into your Instagram account in Google.
After successfully logging into your account you will see your Instagram feed.
At the bottom of the Instagram page you will see 5 options called home, search, post, notifications and your profile.
Click your profile icon placed at the bottom right corner of the Instagram website.
In the profile page you need to click on the option edit profile placed at the bottom of Your Instagram username.
In the edit profile page you will see your display photo, username, name, website, bio, and personal information, including your email address, phone number, gender and similar account suggestions.
Now you need to go to the Bio section under edit profile.
In the bio you need to simply hold on the textfield tell you see the option of paste.
Click the option - paste from the menu and it will paste the selected font for your Instagram account.
Conclusion :-
In this article, we covered an essential guide on how you can copy and paste fonts for Instagram by using the official website on Google Chrome.
I hope this article on copy and paste fonts for Instagram helps you and the steps and method mentioned above are easy to follow and implement.